Welcome to our Learning & Development Portal
This site has been developed to provide better access to key resources for GAA members and those actively promoting Gaelic Games. Register as a site member and access Education Programmes to support your role as Coach, Referee, Administrator or Player. 
---
GAA Games Development Conference 2018
The GAA Games Development Conference 2018 in partnership with Sky Sports was held on Friday and Saturday, January 12th and 13th 2018 in Croke Park. 
2018 Conference Summary                                                                                
For more information click .or use the Conference links on the right hand side to acces video and presentations from the Games Development Forum and Conference 2018.
---
The GAA Player Conference 2018
The first ever GAA Player Conference will take place in Croke Park on Saturday, February 17th. Open to all adult players of Gaelic Games (Football, Hurling, Ladies Football, Camogie, Handball and Rounders), the event themed Prepare, Perform and Recover is designed to engage, educate, support and inform adult club players on player welfare topics. 
The conference will include keynote addresses, engaging workshops and discussion groups as well as practical experiential demonstrations.  For further information see 
http://learning.gaa.ie/player
---
Future Leaders Transition Year Programme
The "Future Leaders Transition Year Programme" is a joint initiaitive from the GAA and the Professional Development Service for Teachers (PDST). It is a cross-curricular programme comprising of a series of modules designed to encourage maturity, initiative, responsibility and leadership skills in pupils. The Programme gives pupils the knowledge and skills to support all roles required in the effective staging of Gaelic Games. For more info go to the Future Leaders Page
---
The GAA 5 Star Centre Initiative
  Click here for more information on the GAA's new 5 Star Centre initiative for Primary Schools
---
The Coach10/MVA Model for Effective Coaching

Click on the image above to learn about the model
---
GAA Activity Planner for Hurling, Football, Handball and Rounders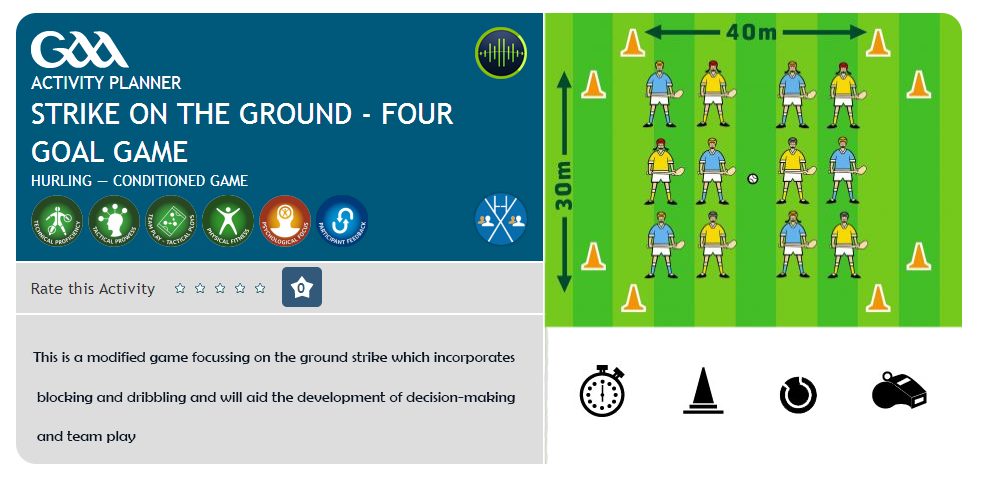 Plan your own sessions with the help of the new GAA Activity Planner.  Click here for more.