GAA for Dads & Lads 
'GAA for Dads & Lads' is a social hurling and football programme for those keen to enjoy Gaelic Games outside the traditional competitive structures of the GAA.
With an emphasis on the social interaction and enjoyment that only team sports can provide, GAA for Dads & Lads is about keeping fun and participation to the fore of hurling football regardless of age or experience. The games allow incidental contact only (to minimise risk of injury) so skills are to the fore over physicality. So regardless of whether you are a recently retired great, a lapsed player looking to reconnect with the game you once loved, or completely new to Gaelic Games and looking to try your hand at a bit of hurling or football, 'GAA for Dads & Lads' could be for you.
The GAA social games movement has seen teams pop-up all-over Ireland in recent years. A national blitz in the GAA's National Games Development Centre in Abbotstown in 2019 hosted 20 social hurling and football teams made up of 160 Dads & Lads. It is intended for this to become an annual event, with additional regional blitzes should demand require.
If you think there is an appetite for social hurling or football group in your club or county, then just follow the steps below to get back out on the pitch because as George Bernard Shaw said: 'we don't stop playing because we grow old, we grow old because we stop playing'; 
Download the promotional material to help recruit some players in your club/community (bottom of the page)
Run an initial 4 - 6 week programme to gauge interest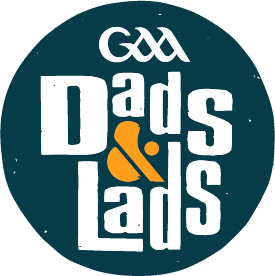 GAA Dads & Lads Games Information 
GAA for Dads & Lads Presentation 
In line with current government guidelines all participants must complete a Covid-19 Health Questionnaire prior to participating: https://learning.gaa.ie/covid19resources
Participants are not covered by the GAA Injury Benefit. Risk is an inherent factor in sport, as in life. When members voluntarily take part in Club activities particularly playing activities in contact sports, they accept the risks that such participation may bring. Each player needs to ensure that they have adequate cover in place to meet their own individual needs and personal circumstances in the event of accidental injury. Clubs should complete a games planning check in advance of taking part and ensure that all players are registered GAA members.
You need to give consent to "Social Media Cookies" to see this content
---
You need to give consent to "Social Media Cookies" to see this content