Games Based Forum at Games Development Conference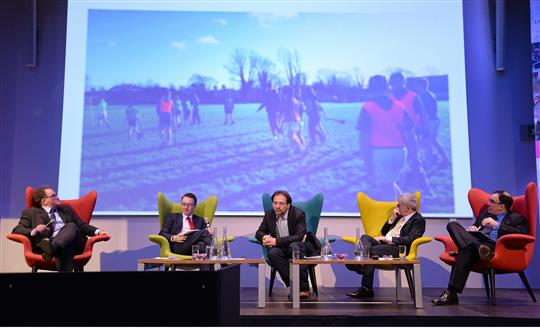 The 2017 GAA Games Development Conference will take place in Croke Park on Friday, January 6th and Saturday, January 7th 2017. The 2017 Conference will focus on issues related to players across the playing pathway (Child, Youth and Adult players).
On Friday, January 6th we will have a special Games Based forum, including presentations by expert Hurling and Gaelic football coaches such as Paul Kinnerk, (Coach, Limerick Senior Hurling Team 2017), Mick Bohan, (Coach, Clare Senior Football Team 2016) and former Cavan footballer and Coach to Greater Western Sydney AFL Club, Nicholas Walsh. 
As a player, Paul Kinnerk has represented Limerick senior footballers, winning a National League Division 3 medal in 2013. Kinnerk also served as coach to the Clare U. 21 hurlers (All Ireland Champions 2012 – 2014). In 2016, he links up with his native county's senior hurling squad.
Mick Bohan is one of the most sought after coaches in Gaelic football. A physical education teacher, Mick has coached Dublin U. 21 (All Ireland champions 2010) and Senior footballers (All Ireland champions 2013) and the Clare Senior Footballers (National Football League Division 3 winners 2016). In 2016, he returns to his native Dublin, taking over as manager to the senior Ladies Gaelic Football team
Nicholas Walsh is backs coach for the Greater Western Sydney AFL club. A native of Cavan town, Nicholas was a prodigious underage footballer, captaining the Irish compromise rules U. 17 team. He was introduced to AFL after being drafted as an 'International Rookie' in 2000. After three injury affected years, Nicholas returned to Cavan. Walsh joined GWS in 2011 in the area of Strength and Conditioning and has subsequently transitioned into coaching as the interim backline coach for the 2016 AFL season. In 2013-14, he also worked with the Irish International Rules team as their Performance Coach.
This session will commence at 7.30pm, and conclude at 9.30pm. Tickets for the two day event cost €60. For more information on the Games Development Conference, visit the http://learning.gaa.ie/Conference2017 or email: gamesdevelopment@gaa.ie