Go Games Skill Challenges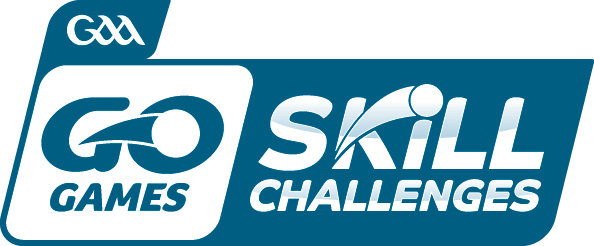 The GAA Go Games Skill Challenges aim to encourage children (aged 7-12 years) to improve their hurling/camogie and Gaelic football skills. 
It is intended that children will be intrinsically motivated to challenge themselves to improve their skills, with a particular emphasis on bilateral coordination. Children gauge their own progress, such as setting distances and recording their own scores.
The challenges can be taken either indididually or with a partner almost anywhere (at home, the club, school etc.). The challenges provide a good opportunity for coaches, teachers, parents/guardians to collaborate efforts to improve skills. 
Check out the following videos to see  inter-county stars taking the challenges. 
---
Mags D'Arcy – Hand Pass – GAA Go Games Skill Challenges 
---
James MCarthy's – Toe Tap – GAA Go Games Skill Challenges 
---
TJ Reid – Overhead Catch – GAA Go Games Skill Challenges 
---
Declan Hannon - Jab Lift & Solo Run - Swipe TV & GAA Go Games Skill Challenges
---
Shane Dowling & Declan Hannon - Partner Wall Strike & Control Challenge - Swipe TV & GAA Go Games Skill Challenges
---
James McCarthy - Banana Kick Challenge - Swipe TV & GAA Go Games Skill Challenges
---
Cian Breheny & Paul Mannion - Partner Hook Kick & Catch Challenge - Swipe TV & GAA Go Games Skill Challenges
---
David McInerney - Continuous Striking Challenge - Swipe TV & GAA Go Games Skill Challenges
---
Cian Breheny - Hook Kick & Catch Challenge - Swipe TV & GAA Go Games Skill Challenges
---
Mags D'Arcy - Roll Lift Challenge - Swipe TV & GAA Go Games Skill Challenges
---
TJ Reid - Wall Strike & Control Challenge - Swipe TV & GAA Go Games Skill Challenges
---
Sinead Finnegan - Kick & Catch Challenge - Swipe TV & GAA Go Games Skill Challenges
---
Shane Dowling - Corner Flag Challenge - Swipe TV & GAA Go Games Skill Challenges 
---
Paul Mannion - Solo Run Challenge - Swipe TV & GAA Go Games Skill Challenges 
---
David McInerney - Crossbar Challenge - Swipe TV & GAA Go Games Skill Challenges 
---
Sinead Finnegan - Fist Pass - Swipe TV & GAA Go Games Skill Challenges 2016 
---
James McCarthy - Wall Punt-kick & Catch - Swipe TV & GAA Go Games Skill Challenges 2016
---
TJ Reid and Mags D'Arcy - Partner Strike and Catch - Swipe TV & GAA Go Games Skill Challenges 2016
---