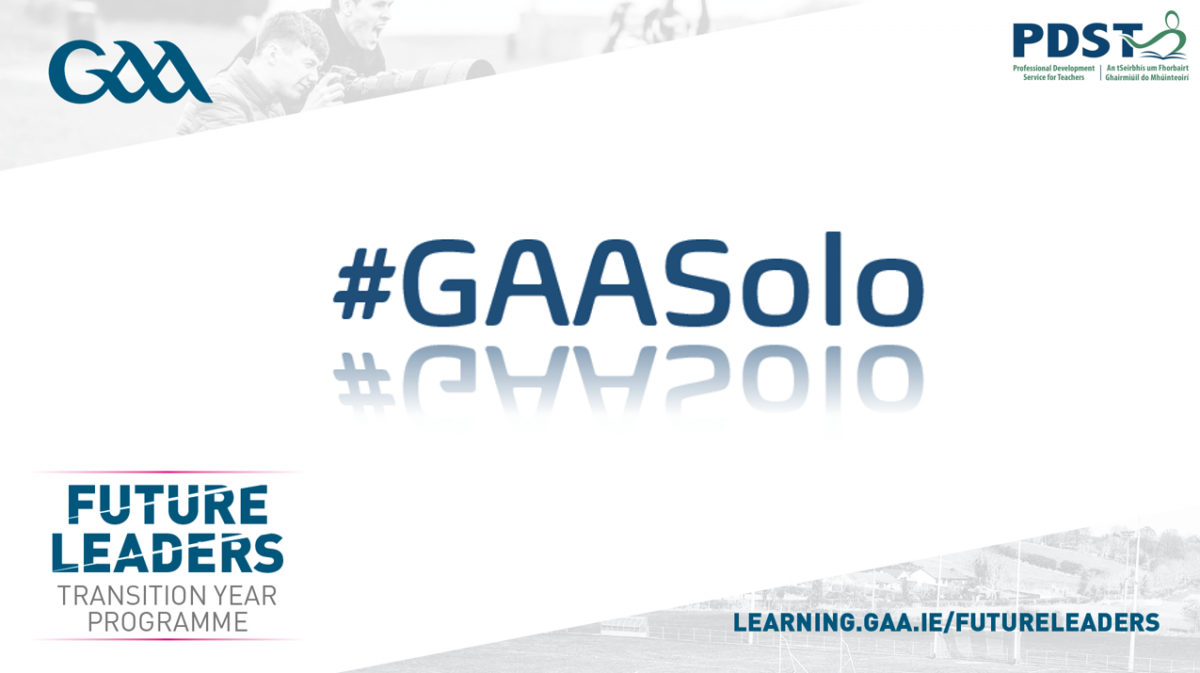 Due to the worldwide Covid19 pandenic, we are living in very different times. The GAA / PDST Future Leaders Solo Challenge is designed to promote positivity, physical activity and wellbeing among young people, while encouraging them to stay at home and follow HSE guidelines at the same time. 
It is a student and teacher challenge which will run for a number of weeks.
There will be different challenges each week, all linked to the modules in the programme. 
To get involved, students and teachers record videos of themselves doing the various challenges and upload them to Twitter, Facebook or Instagram.
Students can enter as many videos they like for as many of the challenges they like each week! If students are registered for Gaisce, they can use these challenges as part of the #GaisceAtHome initiative. Please see below for more details of our links to Gaisce.
Be as creative and as imaginative as you like but remember to stay safe while doing the challenges and at all times follow the HSE guidelines.
To enter a video please make sure to do the following;
Give your name
Give the name of your school
Tag GAA Future Leaders in the post
Use the hashtag #GAASolo AND #GAAFutureLeader
Remind people to "remember to stay at home and follow Government guidelines" #ItsInOurHands
Don't forget to nominate some of your friends or family! 
Instagram: gaafutureleader       Twitter: @gaafutureleader        Facebook: GAA Future Leaders
Terms & Conditions;
Videos of the GAA Solo weekly challenges that are shared with us on our social media platforms, using the hashtag #GAASolo, will be entered into the weekly competitions, whether we share them on our page or not. Please be aware that if you share a video with us for entry into the competitions, using the hashtag #GAASolo, those videos may be used by our partners in this initiative - O'Neills Sportswear, RTE and Gaisce - on their respective platforms.   
Weekly Challenges:
You can do any or all of these as many times as you want! We will have different challenges each week;
Week 4:
a) 30 Second Hurling & Gaelic Football Skills Challenge - Hurling / Camogie; Off the hurley wall drill – no hands, control and strike.
Football; Figure of 8 hand passing wall drill. How many can you get in 30 seconds?
b) Coaching Challenge -  Pick a hurling, camogie, Gaelic football or LGFA skill. Make an instructional coaching video, breaking down the skill and showing the key teaching points. Use text on your video to help.Have a look at the skills cards and videos for tips on the teaching points and see if you can do a better job! (Hurling Skills Cards & Videos / Football Skills Cards & Videos) 
c) Wellbeing Challenge – It's very imortant to keep active while at home, so we are challenging you to send us videos of the home workouts or dance routines you are using to keep fit. 
d) GAA Solo Recipes For Success Challenge – This weeks challenge is to prepare / bake one of the "Healthy Snacks" from the Recipes for Success book. 
GAA Future Leaders YouTube Channel.  
Prizes:
It will be incentivised with weekly individual and school prizes.
Individual Prizes:
4 O'Neills Half-zip tops for the best videos EACH WEEK!  
Gaelic Footballs & Wall Ball Sliotars EACH WEEK!
School Prizes:
Each week we will give an O'Neills training pack with 10 footballs, 10 wall ball sliotars, bibs and cones to the school whos pupils have the most videos online.
Please check our social media for the winners each week.
YSI (Young Social Innovators): Open Call to Teenagers #YSIOpenCall
We are delighted to partner with Young Social Innovators on an Open Call to Teenagers. Coronavirus has changed the way we live, work, learn, connect, communicate, travel and care for each other. YSI's new research which has found that 68% of young people in Ireland are optimistic that society will change for the better in the aftermath of coronavirus. We know that young people have plenty of ideas about how to tackle these challenges in new and creative ways - and we want to hear them.
Over the next 6 weeks YSI is asking young people to look around their community and to think about ... what is working? What is not working? What is bothering you? What can YOU do to help? The ideas with the highest potential for impact will have the opportunity to pitch to a panel of leaders from across business, NGO and government.
Click here for more details and the application form.
Gaisce:
The GAA / PDST Future Leaders Programme is officially a Gaisce Challenge Partner. This means that students can use elements of the Future Leaders Programme to achieve their Bronze Gaisce Award.
Gaisce have recently launched their #GaisceAtHome initiative. Students who complete some of the weekly #GAASolo challenges can put them towards their Bronze Gaisce Award under a number of different criteria.
If you do some of our challenges and are also registered for Gaisce, please use both #GAASolo and #GaisceAtHome hashtags.
For more details on #GaisceAtHome visit – https://www.gaisce.ie/gaisce-at-home/
GAA / PDST Future Leaders Programme
For more information on the Future Leaders programme click here: https://learning.gaa.ie/futureleaders