Last Updated: 16/09/2020 at 10:30
Welcome
The GAA, LGFA and Camogie Association have partnered to provide a Covid-19 Club Education Programme to help those involved in Clubs return safely to Gaelic Games activities.
The programme aims to protect the health and welfare of all those involved in Gaelic Games and minimise the risk of transmission of Covid-19 in local communities.
It is especially aimed at:
Covid Supervisors and Club Officers
Players and Parents/Guardians of Underage Players
Team Personnel such as Managers, Coaches and Medical Personnel
More training and support will be announced for specific groups such as referees and games development staff in due course.
The programme will complement information, advice and support available to Clubs through County Committees and Provincial Councils. 
The information on this page summarises the initial education resources for Clubs. The Gaelic Games associations will continue to listen to the needs of its members and supporters and respond quickly where more important information is needed.  The programme will be delivered in stages with the initial offering tailored for Covid Supervisors and Club Officers.
---
Covid-19: Guidelines on the Safe Return to Gaelic Games 
Latest Version
30.6.20 - Guidelines on the Safe Return to Gaelic Games
Summary of Changes
From June 29th, contact training permitted for Gaelic Games
Interim Guidance on dealing with positive symptomatology issued – Dealing with Positive Symptomatology
Facilities permitted to open from June 29th

Astro turf facilities – for club members
Hurling ball walls
Walkways – all control measures, bar the need to adhere to social distancing, removed
Outdoor Handball Alleys
Officer Training/Meetings (Subject the guidelines prepared by the National Health and Safety Committee – Guidance on holding Indoor Meetings)

The following are allowed to open from June 29th providing Government Regulations for the relevant sector is followed and all required third party insurances and assurances are in place

Bars Serving Food
Businesses operated by third parties using GAA premised under licence or lease (Exception: Gyms)
Astro Turf Facilities – recreational use by non-GAA members
Playgrounds

It is hoped that the following may be allowed open for Phase 4 (from July 20th) – however, the GAA will confirm the position on each of these in the lead in to Phase 4:

Club/County Gyms
Dressing Rooms (subject to advice on Close v Casual Contacts)
Indoor Handball Alleys, subject to guidance laid down in Handball Return to Play Document
Use of facilities by community groups / recreational users
Bars not serving food
---
Covid-19 Incident Report Form
In order to keep track of Covid related incidents around the country, we have created a form through Microsoft Forms where Counties and Clubs can report various incidents to the GAA centrally as they occur. 
To access the form please CLICK HERE
---
Latest News
Latest Gaelic Games news on COVID-19: 
---
Online Learning
eLearning Module
A certified eLearning module has been developed for Gaelic Games.  It contains basic information for Players, Parents/Guardians and Team Personnel on their responsibilities and enables participants to get a Certificate to verify completion to their Club.
This module must be completed by anyone entering Club facilities for training sessions/games. The module will take approximately 20 minutes to complete.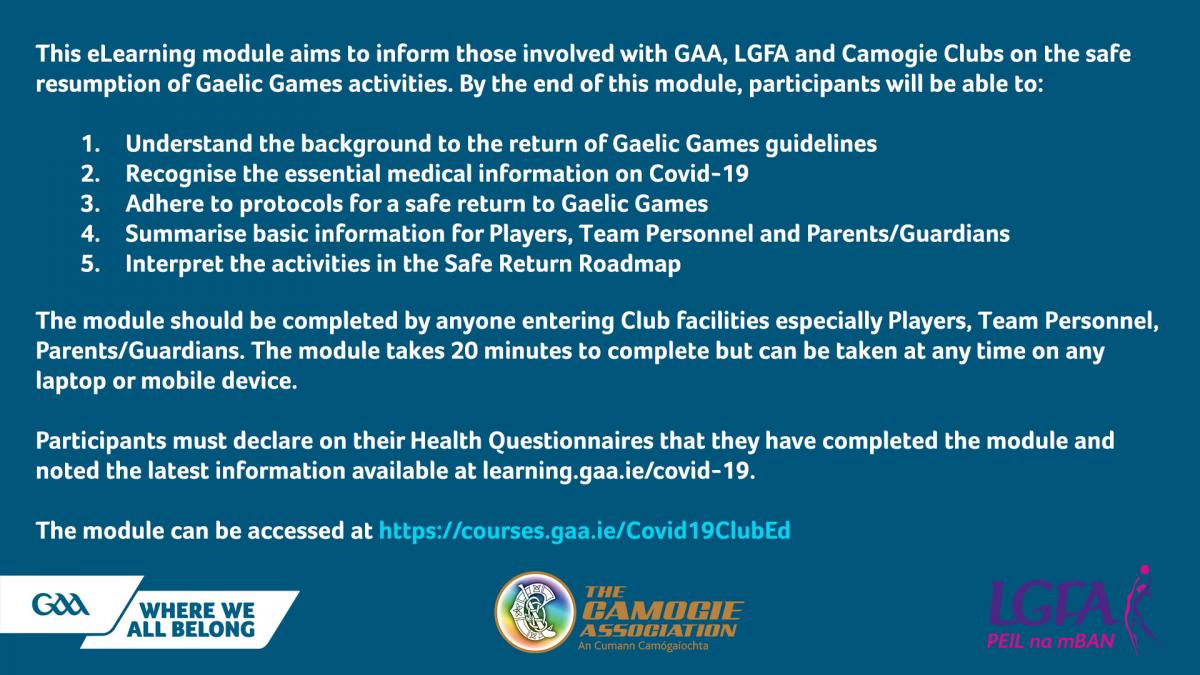 Access now at: https://courses.gaa.ie/Covid19ClubEd/
---
Club Briefings
A series of Club Briefings have been issued to explain the updates to the Guidelines and address common queries.
You need to give consent to "Social Media Cookies" to see this content
Read more at: https://learning.gaa.ie/covid19learning
---
Educational Resources
Resources available for Clubs include:
Posters and signage
Child safeguarding guidance
Health Questionnaire and Declaration
Read more at: https://learning.gaa.ie/covid19resources
---
Due to the rapid changing nature of the public health advice, all resources will be labelled with the date of last update and amended as quickly as possible after the Gaelic Games organisations approve changes.