Investing in Leaders, Investing in You
The GAA , LGFA and Camogie Association is partnering to provide a range of training and development opportunities to help Club Officers maximise their leadership potential in their volunteer roles.
You need to give consent to "Social Media Cookies" to see this content
About
The Club Leadership Development Programme (CLDP) provides learning opportunities to new and existing Club Officers in GAA, LGFA and Camogie Association Clubs to help them gain the knowledge and skills necessary to fulfil their roles.
The programme has been designed and is delivered by the GAA's National Officer Development Committee (NODC) chaired by Mr. Paddy Flood.  It focusses on the practical aspects of the primary roles on a Club Executive, i.e. Chairperson, Secretary, Treasurer, PRO, Coaching Officer, Registrar and Irish Language and Culture Officers.
The NODC partners with the various functions in Croke Park, the Provincial Councils and County Development Officers to provide learning opportunities to Club Officers.
Over 6,000 Club Officers have participated in the programme since 2016 and for the first time in 2020, selected modules will also be offered to officers from LGFA and Camogie Clubs.
---

Module Catalogue
To see what each module involves and who they are for, please click on the Module Overviews below:
---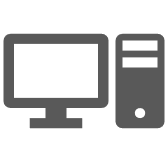 Online Learning
All Club Officers can avail of a range of online learning modules on the Learning Portal.  Featured modules for 2020 are listed below:
Club Officer Foundations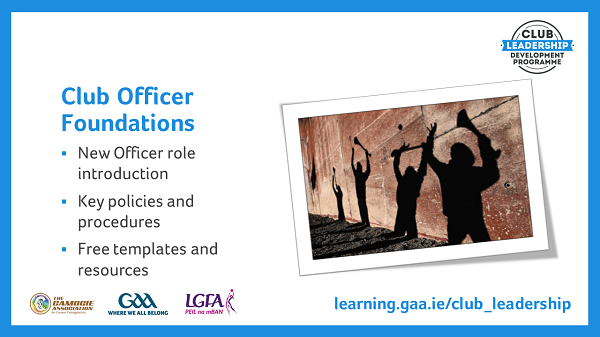 This self-paced module aims to provide all new Club Officers with basic information to get started in their roles. 
Upon completion of the module, officers are encouraged to attend the face-to-face workshops available in their counties.  These workshops go into more detail on the specific duties of each Club Officer.
The module covers:
Our mission, vision and values
Organisational structures
Roles and responsibilities of volunteers and staff
Training opportunities
Sources of information and advice
Key documents and how to access them
Communication and correspondence protocols
Getting started with Office 365
Click here to access the module.
Note
Ensure that pop-ups are enabled on your computer – Click here for guidance on how this is done.
This module is mandatory for officers seeking to complete the Club Officer Foundation Certificate.
Effective Meetings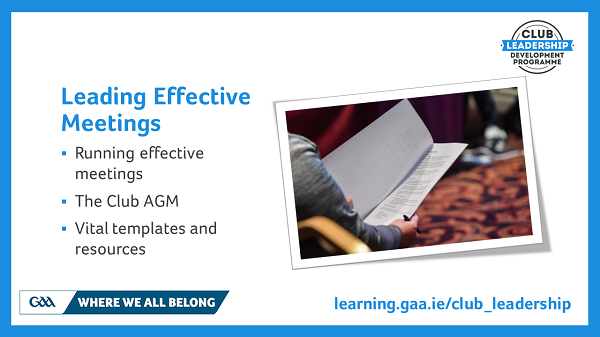 Meetings are an essential part of running a Club Executive or Sub-committee.  Leading meetings so that they run smoothly and achieve what they are supposed to is not as easy as it sounds but it is a skill that can be developed.
The GAA has developed an online module to support officers run meetings more effectively.  It is a time-saving guide to planning and running meetings from start to finish which covers preparation, keeping the meeting on track, complying with the GAA Constitution & Rules, and follow-up on actions.  It includes best practice advice for dealing with challenging individuals, as well as downloadable templates for creating effective meeting agendas and meeting minutes.
Click here to access this module.
Note
Ensure that pop-ups are enabled on your computer – Click here for guidance on how this is done.
GAA Management System Webinars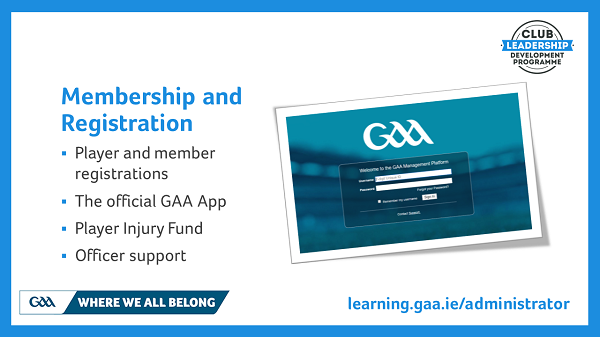 A series of webinars aimed at helping GAA Club Officers understand the GAA Management System (GMS) will be delivered throughout January and February 2020.  The GMS, formerly known as 'Servasport' allows Clubs register players and members, affiliate teams with the Injury Benefit Fund, communicate with members and much more.
Click here for more information on how to register for these webinars.
---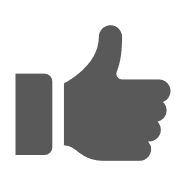 Features and Benefits
Programme Features
Practical, interactive and relaxed learning
Short modules available in face-to-face and online formats
Delivered by highly experienced and trained facilitators
Quality, local venues are used in your County or Province
Respect for your existing knowledge and experience
Specific information and resources for your role and Club
Certificate of achievement – for those enrolled on the Foundation Certificate
Benefits for Club Officers
Establish knowledge of your role and the roles of others
Gain the latest information for your role
Develop your leadership and management skills
Experience increased role satisfaction
Access the latest resources and advice
---

How It Works
Each County Development Officer is responsible for organising training events on a county or regional basis.
They typically consult with Clubs to determine the topics of most interest before organising modules.
Once the National Programme Coordinator appoints a trained Associate, face-to-face workshops will be confirmed and the details made available in the Events Calendar.
Club Officers can find local events and register.  Confirmation details will then be circulated in advance of the workshop.
---

Certified Learning for new Club Officers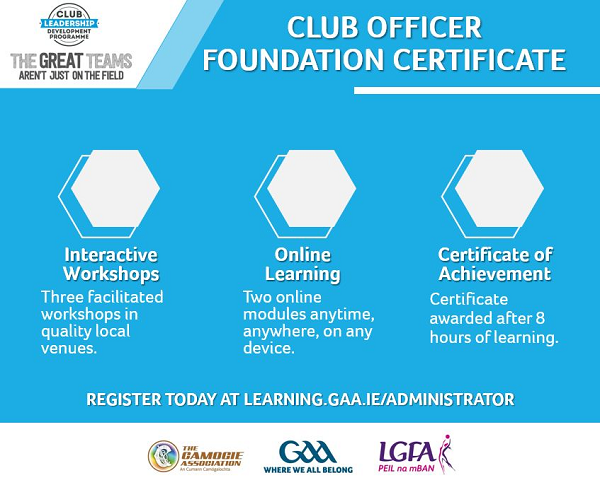 The Club Officer Foundation Certificate aims to provide a certified learning path for new Club Officers.  It is the GAA National Officer Development Committee (NODC)'s first attempt to group together priority modules for new Club Officers to help them progress their learning over time.
It will be piloted with Chairpersons, Secretaries, Treasurers and PROs in GAA, LGFA and Camogie Clubs in four participating counties in 2020.
The Foundation Certificate involves 8 hours' worth of learning which must be completed by 1 December 2020.  For new Club Officers, it involves four sections:
Section 1 – The online Club Officer Foundations module.
Section 2 – The workshop covering their role and responsibilities, e.g. Getting Started as a Club Chairperson / Secretary / Treasurer / PRO.
Section 3 – The Club AGM workshop in the autumn.
Section 4 – A choice between one additional workshop or two online modules - this will be decided by each participating County Development Officer.
The main benefits for Club Officers are:
Clear guidance on finding the right knowledge and skills to fulfil their roles.
Setting learning goals that will progress their administrative credentials in the GAA, LGFA or Camogie Association.
Tracking of course progress over time.
The availability of learning badges for each module completed, an official GAA, LGFA and Camogie Association certificate for course completion and a gift – the exact gift is to be decided shortly.
The Gaelic games organisations are currently seeking four counties to pilot the provision of the Foundation Certificate.  These counties will be confirmed by 17 January and communicated to Clubs.
Once participation in the pilot has been confirmed, Development Officers must get new Club Officers to enrol-on the Foundation Certificate course via the Learning Portal.  At this point, participants can select all modules they wish to take in 2020.
The next steps will be communicated to Club Officers by the relevant County Development Officers.
To express an interest in this certificate, please contact your County Development Officer using the details at the bottom of this page.
---

Find Events
Find events by using the Events Calendar below:
Scheduled workshops will be available from 20 December onwards.
---
Registration
Registration Overview
Registration for events is available through the calendar: Events Calendar
Each County Development Officer typically schedules between 2 to 6 workshops annually.  Some of these workshops may be offered at the same event.  These workshops form the county's Club Leadership Development Programme course for the year.
Each course has been scheduled by the National Programme Administrator on the Learning Portal.
Officers then have the option of viewing the workshops chosen by their counties and registering for the ones of most interest.
Dates, times and locations can be viewed for scheduled workshops in the calendar.
Note – Officers can select all workshops they wish to attend when they first register on the course.  The registration process does not have to be repeated for each workshop.
Registration Steps
Register or login to the Learning Portal: Registration Guide
Find events near you in the calendar
Clicking the relevant registration link in the calendar to sign-up to the course in your county.
Click on 'Enrol me'.
Select the Modules you wish to take by ticking the relevant boxes.
Click 'Save' on the bottom of the page to register on your county's course.
The Programme Coordinator will follow-up with you before the event if there are any changes to the date, time or venue.
Note - The Club Officer Foundations and Effective Meetings modules are self-paced online modules, so you can access them right away by clicking on the relevant links in your county's course.
Events will be added to the calendar as soon as each County confirms the dates, times and locations.
Pre-registration through the Learning Portal is mandatory for those pursuing the Club Officer Foundation Certificate.  The Certificate will be piloted in four counties in 2020.
---

More Information
Contact your County Development Officer for more information:
---