Submitted by

mcgowasg@bc.edu

on Thu, 07/03/2014 - 12:32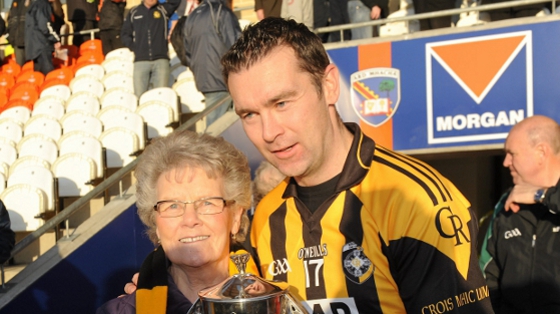 In the second of GAA.ie's six-part series on player welfare, former Armagh and Crossmaglen forward Oisín McConville tells us about some of the off-field issues that can affect players, and how his life has been since hanging up his boots.
By Arthur Sullivan
Oisín McConville recently donated his medal collection to the GAA Museum at Croke Park, and one look at what can only be described as his wall of glory in the museum tells, in its own way, the remarkable story of his unique playing career with club and county.
However, during the period when he was collecting every major honour in the game, McConville was going through a turbulent period in his life off the field. In his book 'The Gambler', he detailed how a gambling addiction took hold of him and threatened his life itself.
He eventually dealt with his addiction, and is now a trained counsellor, specialising in CBT and suicide prevention. In this interview, he talks about his life off the field during his football career, and how he dealt with things like fame, being recognised, stress, and criticism.
He also discusses player welfare issues more generally from the point of view of dealing with the media, dealing with retirement, and what other issues are currently prevailing in the area of player welfare. He is a member of the GAA's Scientific, Health and Welfare Committee.
GAA.ie: As a result of your successful GAA career, you are famous and recognisable throughout Ireland. Have you found fame difficult to deal with?
Oisín McConville: I think it's actually trickier when you're playing football. Especially if it's more localised. I think when you go down the country and stuff, it's actually quite flattering when people do sort of recognise you. But I was working in Armagh around 2002 when we were heading towards an All-Ireland and it's very intense because I actually felt at some stages - I was working in an office down there - that I didn't want to leave the office.
I wanted to come in early in the morning, park my car, go up to my office, close the door, spend whatever amount of time in there, wait until most people are gone and then come out because I'll be honest with you, anytime you'd walk down the street in Armagh it was football, football, football. Believe it or not, things actually start to suffer as a result of it. Your work starts to suffer and you don't want to really be talking about football 24/7. It's bad enough when you're working, every phone call you make people make reference to it if they recognise the name. So from that point of view I would have found it really difficult when playing because you're trying to focus on the match and you're trying to get away from those things.
And even simple things like tickets coming up to matches and stuff, for me it would have been a lot of pressure because I was a people-pleaser and was trying to please everyone. I'd nearly try and sort everybody out. You quickly learn that you have to pass all that on, and I passed a lot of that on to my mother, as far as dealing with the tickets situation. But since I've quit, I don't find it a problem really. I find it easier to talk about football now. I think it's a nice thing because 99 per cent of people are very complimentary, they're genuinely interested in having a chat with you or talking about football and I think that's a great thing.
GAA.ie: How much would you say your problems with gambling came about as a result of being such a high profile figure?
OM: I don't think it led to it but I think it made it very easy for me to go into my shell that little bit more. To delve even deeper into gambling. That if I was taking a lunch break, it was very easy for me to go to a bookies. Still get a bit of football chat, but most people around a bookies at lunch time are interested in gambling or maybe have a similar sort of problem even if it's not as bad as what I had.
So I would have found refuge or sanctuary in a bookies in going in and immersing myself in all that sort of thing so that I didn't have to deal with any of the stuff that was going on around. And I suppose people would have seen me at that time as having everything, or maybe being a little bit cocky or arrogant in certain aspects. That was only a mask that I was wearing, because inwardly I wasn't feeling that. Inwardly the self esteem wasn't where it should have been. All of those sort of things. I didn't feel I had a proper place in society. All of those sort of things built up and the fact that I didn't talk about them made it worse for me.
GAA.ie: When you were being recognised everywhere, and usually being slapped on the back for your on-field achievements, was it difficult to keep your perspective and perhaps your ego in check?
OM: I found that difficult in one way in that it was lovely to hear all that and I would take that on board but I couldn't accept it. I couldn't take it in for what it was, and I couldn't separate football and the rest of my life. It was all muddled in together, it was like a huge amount of stuff all in a ball and stuff that was weighing heavy on me.
I was sort of isolated because I had done that deliberately. I didn't want anybody getting in on the fact that I had the problems that I had. From that point of view, it made it really difficult for me to accept compliments and things like that. That would still be the case a little bit but I'm a little bit better at it now but I think in general, around that time it was a great sanctuary for me, to be in that bookies to do that thing.
GAA.ie: Did you suffer much stress/anxiety as a player in terms of playing the game itself?
OM: To be honest, no. That was the only time I felt safe. Nobody could get me when I was playing football and that was the time when I could express myself properly. Ok, I was outwardly cocky but that was a mask and not really how I felt.
The whole thing about playing football was that it was a sanctuary and it was somewhere I felt I could express myself, where I was confident. It sounds like a very exaggerated thing to say, but that's why I would always say that football kept me alive at times. Because of that reason, because of the fact that on one side of my life, it's a complete mess, and then I have this one wee thing where everything is structured - football.
GAA.ie: When you say 'saved your life', are you referring to suicide having been a possibility?
OM: I would have had lots of suicidal thoughts. I always thought about what's the best way I can get away from this, without dealing with it. Without coming out and talking about it and writing a book about it and all those sort of things. Going to get help. I had a lot of pride, saying that I wasn't going to get help. If I was going to do something, I was going to do it on my own. But as I know now, those things don't happen. You need help in order to get the far side of it.
GAA.ie: Are mental health issues prevalent among GAA players? You work as a counsellor now, have you been surprised by the amount of problems you have seen?
OM: The GPA have figures on that, and you probably should then multiply those figures by two or three. People seem to forget that the GAA fraternity is not just the players we see on TV between May and September. There's a whole other population of people out there and to be honest there wouldn't be a week that goes by where I wouldn't see one or two people who are in serious difficulties, whether it be drugs, alcohol, gambling, whatever it is.
GAA.ie: Do you think there are many high-profile GAA players who are having difficulties with some of these issues, but feel they can't do anything about it as they are afraid of it becoming public?
OM: Without a doubt. One of the first things I hear when talking to players, not just GAA players, but sports players and well-known people is "I don't want this to come out, this has to be 100 per cent confidential." That's the first thing that they say. It's understandable in one way. Not everyone has to be like me. Coming out and talking about it is something that you have to have a long, hard think about. You need to speak with your family, it doesn't just affect you but all the people around you. They reckon for every person that's addicted, it affects 10 other people and maybe even more.
But the more people that come out, like Niall McNamee in Offaly for example, the more we can take the stigma away from the addiction thing. The more we take the stigma away from it, the better people will feel about coming forward. They realise there is help there and I think to be honest, I always say there is an onus on us as sportspeople to lead from the front. There's never any shame in having a hamstring injury or God forbid, if you do your cruciate, you'll go and get the treatment. I think for me there's a parallel there because, with mental health issues you do need to deal with them and deal with them properly, or else they will come back to haunt you.
GAA.ie: During your time as a player, generally how would you describe how the public interacted with you when they saw you somewhere?
OM: Generally I would have to say that 95 per cent of it has been positive. You're going to get a little bit of the other stuff and to be honest, I was quite a fiery character for a lot of years. And on many occasions, I would have got into difficulty because of that. Now, if somebody says something that is derogatory, I can easily brush it off. I don't take it too personally anymore. I don't take myself too seriously so I'm able to give them an answer back and stuff like that. It took me a lot of years to do that.
I remember one occasion in particular. I wasn't playing on this day, but I was still a player. I was walking up the hill in Clones and a couple of boys in particular started giving me a lot of abuse, a lot of personal abuse. It wasn't actually about gambling, it was a rumour that I had been violent towards someone close to me. They gave me abuse along those lines, and I'll be honest with you, I was ready to fight them on the hill up to Clones.
I learned a lot from that. I learned a lot from the situations you get yourself in and to ignore a lot of things because when you get to a stage where you are quite high-profile in that you're recognisable, you get to the stage where you're going to get those. People will test you, and if people know that you're going to react, they will definitely test you. So you sort of learn through time that you just can't react and you sort of bite your tongue.
GAA.ie: Have you received abuse from people about your gambling addiction?
OM: I remember playing an Ulster Club Championship match around the time the book came out and I got a good bit of abuse from players and from spectators.
GAA.ie: Was it hurtful?
OM: Some of it was hurtful. But then there were a couple times in Clones when the supporters behind the goals sang "The Gambler", which is a bit of craic and is funny. I would have taken it as a bit of craic. If you set yourself up and write a book, you have to expect a bit of stick. When you become an inter-county footballer, you have to accept a bit of stick.
GAA.ie: How did your family deal with criticism of you or things being said about you?
OM: That was probably the most difficult. And I'm sure there were lots of occasions where I never would have heard about it, where they never would have said it to me. They know it would have hurt me, I know there were a couple of occasions in the stand where it could have came to blows. Some members of my family, I'm sure they won't mind me saying, would be quite fiery as well. Some of them would take it with a pinch of salt and leave it at that. Some of them couldn't leave it.
I'm sure down through the years, they sort of got hardened to it a bit like I would have. But at the same time there were some instances when some of the stuff being shouted wouldn't have been acceptable and they would have made that known to whoever was shouting it. When people are shouting abuse from the stand, that's someone's brother, son, father, husband they are abusing. 
GAA.ie: Overall, when you played, how would you describe your relationship with the media?
OM: I can pick incidents out where I would have felt hard done by. Once, twice, at the very most three times, in all the years that I played football. The first time I was very naive, but I learned a lesson early on. I remember speaking to a member of the media before my debut, which was against Tyrone in Omagh. He did an interview and he said at the end "You know, off the record what do you think of your chances on Sunday?"
I said "I think we've a really good chance and I think we'll win." "And what about yourself?" "Well, I'm hoping to have a field day because the two boys in corner back are 33 or 34 and don't look particularly fit to me, they look to be there for the taking." Sunday morning, there it is in the paper.
I remember all the Tyrone boys then on the field when they saw me saying "he was saying yous were slow and this and that and the other" which they were. I wasn't telling a lie but I didn't want it printed. But you learn, and you learn who you can trust and who you can't trust. It was a good lesson, and a costly sort of lesson, but it was a very good lesson for me to learn very early on.
GAA.ie: How did you deal with criticism from the media? Do you think because GAA players are volunteers they should perhaps be insulated somewhat from the kind of criticism that professionals get? For example, Jarlath Burns was recently critical of Joe Brolly for his comments about Paul Grimley on The Sunday Game for that very reason.
OM: If players and managers deserve criticism, I think they should get it. But when it becomes personal, when it goes to the stage where it sounds as if it's a personal vendetta or it's a gripe or it goes along those lines...
In that example, I know Paul Grimley very well, and would have good time for Paul Grimley. And one of the things is that when Paul Grimley was going home on Sunday night, he would have known well that things didn't work out for him. That he got it wrong. That maybe he could have changed certain things. The other thing you have to think about is that Paul Grimley's reputation was on the line on Sunday as well. And what he wanted from the team is not how it materialised.
But I think for Joe Brolly to get personal with him takes away from Joe's point, whenever he gets into the nitty gritty. It had sounded as if he was building up to it before the game and that. It's almost as if he was in his line of sight and he wasn't getting away. But regardless if Armagh had won or lost the game, I'd imagine that Joe would have said something anyway.
From that point of view, I think as a pundit you detract from what you're trying to say if you do get personal. That's why I always try and stay away from getting personal with people. Take the whole thing with Gooch last year, when it was said he hadn't proved himself and so on. That's bull! He's proved himself year in, year out and is one of the reasons people go and watch Gaelic Football. I've a young lad, he's coming up on one-year-old soon and I know when he's five, six, seven, eight, nine and ten Colm Cooper will more than likely be finished playing. But I'll still be showing him the videos of him.
GAA.ie: Overall, what is your view of the media's coverage of Gaelic Games?
OM: It's a strange thing because when I was coming up through the ranks and starting to play football, you would have come and met me for an interview. You would have rang me on the phone, looking for an interview, no problem. Always glad to give an interview, always glad to give my time.
Now, what you find is that there's a launch of something or other. Two players are there, they are interviewed and the interview is then regurgitated by 10 different journalists. For me it gets a bit boring. More players should be making themselves available for media stuff. It's usually the same players that are rolled out from every county because first of all, managers are afraid of what they're going to say. So if you've got two people who are not media trained but media savvy they'll dole out the same party line all the time. For me, that's not promotion of our games and it's something that has to change.
GAA.ie: Is there a fear on the part of players that their words will be perhaps used out of context or blown out of proportion? For example, last year Joe Canning was quoted at a press conference and it caused quite a stir ahead of playing Kilkenny...
OM: One of the reasons why we're afraid is that exact situation that happened with Joe Canning last year. I'm sure Joe says very little since that. And that's why managers are afraid because they don't want that article up in the changing rooms, they don't want to give that other team the edge. Now, I'm 100 per cent sure that Brian Cody didn't use that Joe Canning thing to motivate themselves to win another All-Ireland, because their drive comes from within. You don't win as many All-Irelands as they do by sticking articles up on the wall.
But that example is one of the reasons why players are not as available as they once were, or why they're not as flexible or as open as they have been before. A lot of them are afraid of it. We saw for example that when Stephen Cluxton was International Rules captain he didn't want to talk to the media. That was fair enough. But it seemed that a lot of players rowed in behind that.
I saw Stephen Cluxton early in his career doing interviews. So it must have been something that happened along the line that he doesn't want to do them anymore. I used to see him quite regularly at events and different things and then it came to the stage where he didn't want to do them anymore. And I just think that rather than seeing the same players and the same articles regurgitated, that we need to help the media.
There comes a time where people are sort of fed up reading the same stuff you know, "it's going to be a 50/50 game" or whatever. I think if we are going to promote our games, especially in the face of soccer and rugby, and just in general, getting people out the door and into the grounds, that we need to start thinking a little more about how we promote it and how the onus is on us to secure the next generation's future in GAA.
GAA.ie: Would players like to do proper interviews?
OM: I honestly think that there's players out there who do want to do it and there's players who don't. But what we've got more recently is that the players who are going to set themselves apart from the crowd are becoming few and far between. I can't remember the last time I read an article where I thought "That's a good article, now I know more about that person, I've got an insight." Those articles are not there anymore. Or if they are, they're very few and far between.
GAA.ie: Generally speaking, how aware do you think the ordinary GAA fan is of the typical lifestyle of a top GAA player in the modern era?
OM: I would say people are not aware in any way, shape or form. They have no idea what inter-county players are doing nowadays. In fact, I'll go a step further and say that in a lot of cases, clubs that are aspiring to win even a junior or intermediate or senior county championship, the work that is going in and the level of commitment those boys have to have to be successful, I would say people have absolutely no idea of that either.
And as well, I'd say people have no idea of how full your calendar can be when you've stopped playing football. It's a very fine balancing act between keeping things right at home with your family, or as you said, giving a little bit back, visiting a club, going to a function, whatever it is. There's a balance there and it's a balance you have to be very mindful of because at the end of the day, the most important thing in my life is what happens here at home. What happens from a family point of view, because if things aren't right here then things in my life aren't right.
GAA.ie: Do you ever have any regrets about the things you missed out on as a result of pursuing a career at the highest level? Things like going travelling, etc.
OM: If I had to weigh up the things that I missed out on, and the things that I gained, I would say I don't regret any of that. Travelling is something that interested me, but through the GAA I've seen more of the world than I ever thought I would have, that's being quite honest. And I continue to get invites to things all over the world. So in many respects, that makes me privileged to have led the life that I have led through sport.
GAA.ie: When you retired from playing with Armagh in 2008, was it in any way a relief to you?
OM: When I left Armagh, it was quite a difficult decision because I would have loved to have stayed and fought for my place. But the manager who was over us at the time hadn't really given me a chance the previous year and I thought it was a good time for me to leave because that manager was getting another year at the helm. So I was a little bit sour at the way it ended for me, in one way. But in another way, yes, relieved. A couple of things that sent me over the edge as a county player were the bus journeys, the video analysis, the amount of time it took to do a certain training session, the travelling, the weekends away. As a county player from April right through until August or September, that was your life.
I would have spent a lot of years where I would have done nothing else apart from work and football. I wouldn't have gone golfing because I was afraid that it was going to affect me in some way. I might pick up a niggle or something, mad stuff. You can't be seen in a pub on a Friday night even though you're not having a drink or anything like that, or even if there's an event on somewhere that you feel as if you should sort of go to, you don't for fear of people saying he's having a drink or he's bananas or whatever.
I would have spent a lot of time living my life in a bubble. Those couple of months where you don't want to be doing anything else. You're going to training, you're doing your gym work, you're doing whatever, you're preparing for the next one. You're building up to the next one. It's a full-time job and you mix that in with a bit of work and it's just crazy stuff. You're home late all the time. I remember one day, I was working in Armagh at the time. I used to leave for work around 8am. I happened to be stopped by the police around Newtownhamilton. I was stopped at 8.15am, and whatever, show your licence, the whole lot.
Drove on down to Armagh, went to work, finished at 6 o'clock. No point driving up the road because training was in Armagh. Maybe get a sandwich, 6.30pm, arrive down to the training, do the training, meeting afterwards, bit of food, into the car. I remember coming down towards home at about 11.15pm. Driving through Newtownhamilton, stopped again! Your boy asks "Where are you coming from?" I said I was at work and he says, "Working? That's a 16-hour day." I explained I had been training but he couldn't understand it at all, that I was doing those hours.
So yeah, I would have been relieved in many ways that a lot of that trudging was over. Because when you have 15 or 16 years or it, it does eventually take its toll.
GAA.ie: What did you miss when you did retire?
OM: People always ask me, do you miss it? I always used to answer the same. I miss Championship days. I miss running out in Clones, I miss running out in Croke Park. I miss running out on the big days in front of 30,000, all the way up to 80,000 people sometimes. That's the things I miss, those championship days. As far as the training and that goes, you can keep it.
GAA.ie: Although you have managed to find lots of media work since retiring, are there some ex-players who have found life difficult after their careers?
OM: I would see that with quite a few fellas I would meet. Luckily enough, during the championship there's so many strands of media that even if it's only local media, you do find, especially if your county is doing well, most lads are kept busy. I would have met most of the Donegal boys last year that I would have played against, they were all involved last year in some way or another. So there's a lot of boys that would get bits and pieces like that, and then there's other boys who like nothing better than to drift into the abyss and go on and play their golf every week and they are fully away from it and they concentrate on their work and things like that there. Like, even though Tony and John McEntee have gone into management and things like that, they'd be boys who are very happy in their homelife and don't really need media stuff. They have the management end of things so they're still involved.
GAA.ie: Finally, you are a member of the GAA's Medical, Scientific and Welfare Committee. Could you give me an indication of your role within that?
OM: There's a lot of stuff that goes on that is over my head because there's the medical and scientific stuff. You can feel a bit out of your depth because there's a lot of doctors and physios and different things like that. My wee niche in that committee is what's happening on the ground, especially with club players, county players. What's the feelings, getting a general consensus.
GAA.ie: What is the main issue at the moment around the area of player welfare, in your opinion?
OM: I'll give you an example of one of the things that I took a bit of a straw poll on and asked a lot of club players, especially around Ulster, and the main issue that gets brought up to me time after time after time is fixtures.
Believe it or not, for eight weeks last year during the months of June and July, there were no fixtures in Armagh for a senior team. So as a senior team, we didn't play for eight weeks during the summer. A time when people want to play football, when people want to go out and watch football. And there's a social thing involved in that too because players can go and if they want they can go for a pint after or they can go and get together and do whatever as a team afterwards. People can come support and get together afterwards and watch a game on television, if one is on. People would go into the club and watch it.
That's the biggest bugbear. From a fixtures point of view, in a lot of counties, if the county manager says the games are off, then the games are off. We could go book a holiday for the middle of July because there's a gap there and there's no fixtures there and then all of a sudden a league or championship fixture could be thrown in and the whole thing is just chaos. Boys have to cancel holidays, women going mental, all that sort of thing and that's the way it's going. And it's mostly club players who I would be most worried about from a player welfare point of view because I think they are the ones that always suffer.
County players know exactly what the structure is to their year. But county footballers are also club footballers, so when they go back into their clubs they are faced with the same problems. I mean, that's really the only thing that comes up all the time. Other players have different wee things but that's the first thing they'll say to you and that's the first thing that players will mention.
GAA.ie: Is there a solution?
OM: Yes. Every county should have the same weekends for Championship fixtures right through. I know there is round-robin systems and all that kind of thing but, I don't care. As a GAA population, we train for 10 months of the year and some people play 10 games in that time, which is absolutely ridiculous. No other sport in the world does that.
So I think that, let's play more rather than train more. The greatest way to get your fitness as a footballer is to play football. I think if we get our heads around that and we stop wrapping our players up in cotton wool, then a lot of the player welfare issues, injuries, etc, will fall back a bit. Because then you play your football, you recover properly, you go and train, you play again. Same way as the Premier League boys do it or the rugby boys do it. There's always a game coming. It's never four or five weeks to a game, it's always at the most two weeks before there's another fixture, another opportunity to put right what went wrong the last time or whatever.
So yeah, there is a a solution. Change the focus from the GAA being an organisation where we train more than we play. I'd rather see us play more than we train.
Oisín McConville was speaking in an exclusive interview with GAA.ie. Over the coming weeks, GAA.ie will feature interviews with a wide range of people involved in safeguarding and ensuring the welfare of GAA players.