Submitted by

mcgowasg@bc.edu

on Thu, 07/03/2014 - 12:43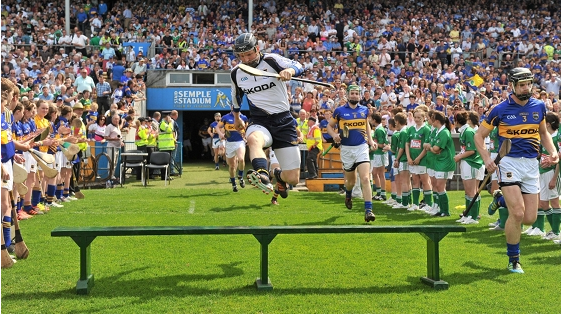 By Brian Murphy
As part of a new six-part series of interviews focusing on player welfare, GAA.ie spoke to Tipperary goalkeeper Brendan Cummins about what it takes to make it to the top of the inter-county game - and to stay there for 19 consecutive championship seasons. 
Cummins is the second longest-serving player currently operating at inter-county level. With 71 championship appearances to his name, the Ballybacon-Grange clubman is also the most 'capped' player in the history of the GAA.
The five-time GAA All Star turned 38 on Saturday and is preparing for his 19th successive championship campaign with the Premier County this summer.
Since making his championship debut in 1995, Cummins has witnessed incredible changes in the demands made of inter-county players and the commitment required at the elite level of the game. Not only has he adapted and changed with the times, Cummins has been an innovative and pioneering presence between the posts for Tipperary.
Here, he reveals some of the secrets of his incredible longevity, his punishing schedule, mixing family life with the demands of the game and his ongoing pursuit of perfection.
GAA.ie: Can you outline the routine you go through before a big game?
Brendan Cummins: My routine starts four days out from a match. I have a set night that I go to the cinema and I have set things that I do during the day including visualisations. I have a check-list in my head, but if I didn't do one of those it's not the end of the world because as far as I am concerned experience means that you can box it away to one side.
There are certain key things that I would have to run through in my head and then I would know that once they are all ticked I have everything done to be fully prepared. When you are in goals it's no good saying you are prepared for everything because you have to do things on a wing and a prayer a lot of the time.
GAA.ie: Were your preparations for the Allianz League final against Kilkenny any different given you knew you wouldn't be starting the game?
BC: It would be no different because I am big into keeping that routine. Whether I am playing or not I do the same things. We met the bus at 11am that morning, travelled down to Nowlan Park and then food has to go into the body three hours before the game and you have to make sure you are hydrated. Normally before games if I am playing I won't eat because I'm not hungry the day of the match. In my position that wouldn't make a major difference from a nutrition point of view or performance-wise because I am not doing as much running as the rest. I normally have a few apples and an orange. I'd attack the fruit bowl while the lads are having chicken and pasta. I am hungry when I am not playing but the nerves mean on a match day that I wouldn't eat anything. From there, I try to rest up and remain relaxed and help fellas as much as I can when I am not playing to try and keep them relaxed and get them focused for the game.
GAA.ie: Do you spend much time talking to Darren Gleeson, who started in goals against Kilkenny, before the game?
BC: Our chatting wouldn't be done 20 minutes before the off. We chat regularly about what each of us will face on any given day. On match day I pretty much leave Darren to his routine just like he will leave me to mine. We would have a chat here and there but it mightn't be a big, deep conversation about the six forwards we are going to face. Two of us are around the block long enough to know that we have the tools to do the job, it's just a matter of allowing your body to be relaxed enough to go and do it. We don't tend to get all psyched up and hyped up because the two of us are similar characters that way.
GAA.ie: Is it harder to maintain your focus when are not starting and you know that you are only going to be called upon in the event of an injury?
BC: If you are reserve goalie it is very hard to be all hyped up because the chances of you going in are very slim. If you are called upon then you have to make sure you are ready. I would have warmed up with the other players every 15 minutes or so on the sideline so my preparation is the same as an outfield player – to remain ready and keep the muscles right so that if you are called on you are not letting the squad down.
GAA.ie: How are you in the days after a big championship game?
BC: I suffer from wicked headaches after games. I've never had a migraine in my life but after championship games my head thumps. I wouldn't go out that often after games, I'd just go home and go to bed because I am absolutely empty. The following day when I get up it's like I've been in a car crash. You are just so tense from the build-up and you don't even realise it. The release of all your focus and energy going in the one direction for 70 minutes, and the concentration that's needed from where I'm standing, the result is these wicked headaches after games.
GAA.ie: How long does it take you to physically recover from a big game?
BC: It's normally alright to get over the physical side of things, but mentally it would take a few days. I could still go out and do a full training session the following day, but your mind just wouldn't be up for it. It takes a few days to get your mind back to normality because you go into a bubble the week of a game. Once you get out of that bubble and get back to the real world it takes a bit of coming down from.
GAA.ie: You train just as hard as any outfield player. Why is it so important for a goalkeeper to stay in peak condition?
BC: I would always say 'fit body, fit mind'. I always wanted to train and play like a midfielder. It was always a goal of mine. If I can't do that, I'd rather retire and that would be it. The agility part of the game is key and goalkeeping has become a very dynamic position. Look at any of the top guys like Dónal Óg Cusack and Damien Fitzhenry: it was like they were on hot coals in the goals. These are the guys I would have looked up to and aspired to be like. I could see they kept themselves very right and that's the space I wanted to be in.
GAA.ie: Have you always been as dedicated to fitness or was there a stage when you realised you needed to make changes to your physical preparation and training in order to prolong your career?
BC: I had been chatting to a few rugby players who had very long careers and I was lucky enough that they were willing to talk to me and pass on how they were managing it. Rest and flexibility were the things they classed as being key. My flexibility is a big thing I have worked on over the last five or six years, not just to prolong my career but to keep my muscles supple. The older you get your body changes and if you keep doing the same things all the time you're in trouble. I decided to train harder than I had done before from a conditioning point of view but also to build that flexibility into all my sessions.
I tried yoga for a while, but I prefer to work on my flexibility at home. It's not too dissimilar to yoga but it's not as structured. Our team physio, John Casey, gives me lots of stretches and exercises to do that would help me for my role in the team and to prolong my career.
GAA.ie: You are quoted as saying that you looked like a 'panda bear' in the 2002 Munster final. Did looking back at that game inspire you to get serious about making changes?
BC: In 2002, an element of a comfort zone had built in with all the players after winning the 2001 All-Ireland final and that was reflected in my body shape. Since then body fat-wise and with all the scientific tests that are done, you know every four to five weeks where your body is at and if it's not improving the manager will have a conversation with you. Over the last five or six years, Big Brother is always there and it wouldn't have been pre 2008 when Liam Sheedy came in. The bar was changed under Liam's regime and that has changed all of us and our attitudes to how we look after ourselves.
GAA.ie: Liam Sheedy brought Cian O'Neill (team trainer) and Eamon O'Shea (coach) in as part of his backroom team in 2008. Would you credit them with the change in your outlook and the way you now look after yourself?
BC: Cian and Eamon together changed my body and changed the way I play the game. With Cian, I did drills to become more explosive, to get my hand-eye co-ordination better and certainly to get my strength up. That was complemented by Eamon's strategies around puck-outs and the way we wanted to play the game at the time. My body was right thanks to Cian and then obviously with Eamon on the tactical side of things it was the perfect storm.
GAA.ie: You turned 38 on Saturday and are facing into a 19th championship season. Do you believe the changes you have made have helped prolong your career?
BC: Absolutely. If you are 18 or 38 you have to be open to new ideas that are going to give you extra percentage points. I love new information about finding out how I can get better. If that means somebody telling me I am doing it wrong and I need to do it differently then I will sit down and have a discussion with them to figure out what is going wrong. I'll ask what needs to change and then we'll go and make those changes. If you are not changing every day you are standing still; if you are standing still you are going backwards.
GAA.ie: Could you outline what a typical week's training during the season involves?
BC: It starts with a gym session on Monday night in my gym at home. I train with the group (Tipperary squad) on Tuesday. Wednesday night is rest, flexibility and foam rolling, which I can do in front of the TV at home so it's not a major chore. Thursday night is back in with the group and then I can have a rest again on Friday. Saturday is a 20-minute session in the ball alley and Sunday is match day.
GAA.ie: And a standard day when you have a group training session with Tipperary in Thurles…
BC: I leave the AIB bank in Portlaoise at 5.20pm and I'll be in Thurles for 6.15pm. I'll do my pre-training stretching for 20 minutes because if you are in the car for 50 minutes you need to spend a while loosening up and getting hydrated properly. I could spend another 20 minutes sitting around drinking Lucozade Sport and getting ready to train. The training session could last on average an hour and a half and finish at 9pm. I'll have a bite to eat after and I'm home by 10.15pm most nights.
GAA.ie: How tough is it to balance all that with family life and looking after two young children?
BC: That's the trick with all this. I don't like talking about the sacrifices because that's what you line yourself up for. I am married to Pam and have a young lad, Paul, who is five and a daughter Sarah, six months. I am lucky enough to have a very good support system. When I am training Tuesdays and Thursdays, Pam's parents come down to help with the kids. That support system allows me to do my thing and in many ways that drives me on because lots of people make sacrifices to allow us play the game.
GAA.ie: Do you think it's possible to balance an inter-county career and family commitments without that kind of support structure?
BC: That structure I have allows me to do it - it's as simple as that. Take an average night when I'm training in Thurles: the young lad will go to bed at 7.30pm and the baby will go to bed at 9.30pm and then I'll roll in the door at 10.15pm saying, 'God, it's a fierce quiet house!'
But when I'm off I'm with the family. If I'm at home, I'm not golfing. I have nothing else going on in my life at the moment only hurling, home and my work. It gets a bit tricky at times and it's a challenge but I am lucky that the people behind me are into hurling and allow me to do it.
GAA.ie: Does that mean you don't have a chance to do any of the 'normal' things regular people do with their free time?
BC: There's nothing else, and there can't be. That's not poor me stuff. When I am not hurling, I am with my family. Take last Bank Holiday Monday as an example. We were supposed to play a club game (with Ballybacon-Grange) that night but it was called off, so within a half an hour of finding out that the game was off that morning the whole family was loaded into the car and headed off to Cork for the day. Whenever there is a chance to get out and do normal things we are doing it.
GAA.ie: How closely do you watch your diet?
BC: I would be a reasonably good eater but I am a far more constructive eater than I would have been in the past. Aoife Ahern was the name of the dietician we brought in to Tipperary in 2008 and she was very good at helping with food planning and making it easy to eat the right things. I wrote out honestly what I would have eaten in a week on a food planner, what time I ate and the drinks I took as well as how much sleep I was getting. At the end of that process I sat down with Aoife and she started going through it with a red marker for a short cut. She'd challenge me and ask why I was eating certain things. Aoife is no longer involved, but I have kept up those good habits that were drilled in to me over a three or four-year period and that has helped me keep the body in shape.
GAA.ie: Do you maintain those good habits throughout the year or do you allow yourself a few months' break from it in the off-season?
BC: No, it's constant. If we are knocked out of the championship in August or September I start back with my routine three or four weeks later. I run 10 to 15 miles a week up around the mountains at home and my diet plan kicks back in. I don't think any player has a hope if they go from being an athlete to a couch potato and back to an athlete. I believe that is bad for you because your body doesn't know what it is doing. I am not doing this because I want to play hurling for Tipp until I am 100 years old; I am doing because I want to stay healthy even when I finish up playing the game.
GAA.ie: How much water do you drink every day?
BC: Around two litres most days. I'm constantly sipping from a bottle at my desk, in the car, at home and even by the bed. Everywhere I go I make sure there is water because I am lazy and unless it's in my hand I won't take it.
I wouldn't touch fizzy drinks unless I was on holidays. I like to keep a fruit bowl over the fridge because I have a weakness for chocolate and I'd eat Cadbury bars until I couldn't fit out the door. When I go to the fridge now with the munchies in the evening it's fruit instead of chocolate. Obviously I would have a bite of it here and there because you can't live like a monk. Again, a lot of these are ideas that Aoife would have given me through the food plan.
GAA.ie: Sports people get sick like everybody else, but do you have to be extra vigilant about the medicines you take because you are subjected to drug testing?
BC: Everything has to be cleared. I worked in the Nenagh branch of AIB last October and I had a head cold and was feeling a bit sorry for myself. Without thinking I went over the road to the local pharmacy. When I asked for Lemsip, the guy behind the counter said, 'Are you sure you are allowed to take that?' Thank God he told me because I had forgotten all about it. I had to ring the team doctor and he told me I couldn't have that particular one.
It's one side of the game that people don't realise – that a GAA player is now subject to the same controls as an athlete that is being funded by the Irish Sports Council even if he's a lad putting out the flags at his local club one day and training with Tipp that evening. You don't own your body any more; the Sports Council owns it from the point of view of drug testing. It's good to have it in the game, but it's just another thing we have to be conscious of.
GAA.ie: How tough is it facing the drug testers after playing a big game?
BC: After the league final against Kilkenny we had two guys who couldn't produce a sample because they were dehydrated straight after the game. It was a couple of hours before they could give a sample and they hardly made it down for a bite to eat.
It happened me one year in Croke Park, in 2010 against Waterford, when it took me an hour and three quarters to give a sample. It was a disaster. I didn't get a chance to have a meal after the game and the bus was ready to go so I had to get straight on the bus because I didn't want to hold up 30 fellas. I think I had a tray of Jaffa Cakes on the way home on the bus. When the drug test boys are in – and I do realise they have a job to do – it's another thing that's going on in a GAA player's life that just makes it that bit more difficult.
GAA.ie: We've talked a lot about training and preparing physically, but how important is the area of sports psychology or performance coaching in helping an elite player to maintain a healthy mindset?
BC: I think players, no matter how young or old they are, need to open up to the fact that there are an awful lot of obstacles in your head that you might not realise are there and they are blocking you from performing well. I think every player wants to go out and express themselves but we all have that little voice in the back of our heads saying, 'You can't do this'. That's why my preparation and routine have been key to me being, to use that cheesy line, 'the best I can be'. It's something that every player needs to buy into at some level. Some need a lot of it and others don't need much at all. But somewhere down the line you will have to put up your hand and admit that you need to talk to someone and take the help that is there for you.
In 2010, Caroline Currid (former Tipperary performance coach) had a great way about her and there is also one guy in particular that I deal with all the time. I pick up the phone to him or I would meet him for half an hour or an hour, and he's a fantastic help for me. I would also have been in touch with Caroline on a number of issues when she was involved with us for my own game and for the team's game. You might see things in the group that she mightn't. Certainly, I would have had huge contact with Caroline and she was very good at what she was doing with us and was a huge help in 2010.
GAA.ie: You're facing into your 19th championship season with Tipperary this summer. How much do you think the game has changed since you made your championship debut in 1995?
BC: I'm not saying the players I played with back then weren't committed because they were, but it's commitment now in capital letters because you are at it four or five nights a week. You are being tested physically, you are being watched by dieticians, head doctors, life coaches, performance coaches, call them what you want. You're being micro-managed. I see some teams now have GPS trackers. When I see the little boxes under a lad's shoulder running out on the field you wonder is there any higher level than where it is at the moment?
Everything is watched, be it food, medicine, liquid – we have hydration tests before training – and all these things add up to whether you can play or not, and that's before you even get to the start line. Once you get to that start line you then have to maintain a level of performance. It's changed so much because everyone is looking for an edge.
GAA.ie: Do you ever think about what your life would be like without hurling?
BC: Eamon O'Shea (Tipperary manager) didn't come running to me at the start of the year saying he really needed me. He simply rang and asked was I in or not. There are no guarantees for any players and in a way you take a leap of faith at the start of every year. It's why you play. You are always on the edge, sacrificing all these things and you are determined not to let your place go to anyone else. Because I have that attitude and all the other players have that attitude that's why 23,000 turned up in Nowlan Park last week. That's what attracts people, knowing that these fellas have given up so many things to play that match, knowing that it means so much to them. They know the horse in the race is flat to the mat to make sure he wins.
GAA.ie You're 38 now and you say you're not going to play for Tipperary until you are 100. Do you have a plan for life after hurling?
BC: If I'm to be honest, it's something I have put a bit of thought into. The reason is that this game has consumed 20 years of my life. What will happen when I'm around the house on Monday, Tuesday, Thursday and Sunday evenings? Divorce might be the first thing because my wife will finally get to know me! It's something I think about, but there are plenty of things outside the game that I can be doing. I have been in touch with players in Tipp and other counties who have walked away and who say they have plenty to do. Other things take their place, but I do have to be wary, because I am around so long, that there will be a void. I will plan and prepare for that when the time comes.
GAA.ie: Is there any one thing you want to do or accomplish in your career before you finally walk way?
BC: Nothing. What I want to do is to try and help leave Tipp hurling set up so that it is competitive in the long-term. That's been my goal since Liam Sheedy took over in 2008. I think if you pin all your hopes on leaving after winning an All-Ireland, the chances of getting that fairytale ending are slim. Declan Fanning was lucky in that he retired on the steps of the Hogan Stand in 2010 which was the ideal scenario.
I just take every week as it comes now and try and get better, fitter and stronger, try to get a place in the team and make some contribution to the group. I don't have a bigger picture in mind or any romantic dreams of standing on the steps of Croke Park with the Liam MacCarthy Cup in my hands dramatically announcing to the world, 'That's it!'
Brendan Cummins was speaking in an exclusive interview with GAA.ie. Over the next six weeks, GAA.ie will feature interviews with a wide range of people involved in safeguarding and ensuring the welfare of GAA players.