Submitted by

ruairi.harvey@gaa.ie

on Thu, 10/03/2013 - 15:32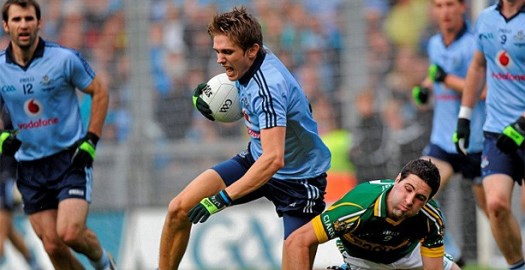 Most years do not pass without a handful of inter-county stars looking on from the sidelines, missing out on Championship action due to an injury they sustained either before or during the season. The implementation of the GAA 15 warm up will hopefully reduce the number of injuries, especially hip and groin injuries which are big at the moment.
This year was no different. All-Ireland medal winners and All-Stars alike spent time on the bench this year. Football and hurling have been plagued with injury in recent decades and the worrying thing is the amount of players that require surgery as a result of their injuries.
Having struggled with hip and groin pain for the past three years, Dublin full back Michael Fitzsimons underwent surgery on his hip at the beginning of November.
"I was getting a lot of groin and hip pain for the previous three years and it came to the fore and at the start of the 2012 season" he says.
"I had a condition called Osteitis Pubis and Adductor Tendonopathy and these were all conditions that we tried to treat in isolation but they both came about because my hip was the main problem and they were secondary injuries. When I went in for surgery they shaved the bone and the socket itself so that I wouldn't get caught in certain movements. Those two points that were previously getting banged up wouldn't be anymore." The pressure is now more spread out throughout the joint so it will help the degeneration of the hip and to reduce inflammation.
"The surgery is becoming very popular now, there are a lot of people getting it done in Waterford and in Santry Sports Clinic. It's called Femoral Acetabular Impingemen."
He explains as if it was as common as tapping over a 13 metre free.
The most common situations that give rise to injuries in Gaelic football are collision (22%) and twisting/turning (19%) both causing stress on the knee and subjecting the knee to injury. Anterior Cruciate Ligament (ACL) tears are the most common cause of prolonged absence from sport.
Even though it seems as if hamstring, hip and cruciate injuries are becoming more common in the current era of GAA, the 2011 All-Ireland medallist thinks that they were most likely always there: "I'd say that they were always there, they weren't being as well publicised. Cruciate injuries got a huge amount of publicity over the past few years and now hip injuries are probably coming to the fore.
"They were always there but the surgery and rehab probably wasn't there to fix them so a lot of players would've just retired or just got on with them."
It's no secret that some inter-county training sessions can be as tight as matches and this may have an effect on the health of the players.
"The high intensity of training these days might just have increased the numbers of injury a bit. If you're training more or if you have any predispositions to injury, that's going to highlight it and make it worse" says the 25-year-old.
Hamstring injuries seem to have reached near epidemic proportions in Gaelic football. The GAA, Medical Scientific and Player Welfare Committee conducted a study which tracked 851 inter-county Gaelic footballers for four years, in the study, it was found that hamstring injuries were the single most common injury, representing 24% of all injuries.
It has also been reported that 1/3 of hamstring injuries recur within the first year following return to sport with subsequent injuries usually being more severe than the original. A qualified physiotherapist, Fitzsimons says that hamstring injuries are very common in all field sports.
"They're common in a lot of field based sports, Aussie Rules, soccer, American football anything with in and around maximum running speed and if you couple that with the amount of change in direction in GAA that can also contribute to it" says the man with three Leinster Championship medals in his back pocket.
"Fatigue adds to the risk of injury, with a lot of twisting, turning and maximum running speed towards the end of the game you're more likely to get a hamstring tear. The muscle fatigues and muscle patterns aren't firing properly. You're more likely to sustain a hamstring injury in the second half than in the first."
The GAA has announced their plans for the 'GAA 15 Injury Prevention Intervention'. The Medical, Scientific and Welfare Committee have teamed up with UCD to develop an injury prevention programme.
The aim of the initiative is to reduce the number of injuries sustained by GAA players. GAA 15 is modelled on FIFA 11+ (soccer) which is a complete warm up programme to promote injury prevention.
The FIFA 11+ programme was developed by an international group of experts and its effectiveness has been shown in a scientific study carried out in Norway, 2008. Teams that performed the FIFA 11+ programme at least twice a week had 30-50% fewer injured players. GAA 15 is tailored to meet the needs of Gaelic players through information gathered since 2007. The GAA 15 standardised warm- up programme is hoped to be launched as a smart phone application and on DVD so it will be easily accessible to all coaches and clubs.
Ideally, all GAA players will take part in the same warm-up routine, hopefully preventing injury.
Fitzsimons reckons that this is exactly what the GAA needs: "It's a great initiative, it's a pro-active measure rather than waiting for people to get injured and trying to fix them up in surgery. It's looking at getting people in the right movement patterns taking what evidence there is out there to prevent injuries and then implementing it into a warm up so that we can tip away at it each week rather than just in the pre- season.
"It's a good step for the GAA. I think they're going to present it to the Games Promotion Officers at the next GAA coaching conference so the idea would be that it would be implemented in the clubs at a young level as well so rather than waiting kids to get injuries as they grow older and getting a poor movement balance and muscle imbalances, they'd treat it straight away so when a kid is warming up at a young age, they would be going through the correct movement patterns. Hopefully now it will be implemented nationwide at we'll see good results."
So where does the Cuala clubman think the GAA will be in the next ten years given the huge changes on the training and playing front in the past decade?
"I suppose it's got very professional these days and even club teams, not even county teams are doing very heavy training. It started off with loads of high-volume running and then there was a bit of a strength and conditioning buzz but I think we'll learn from these things and it will be a bit more balanced in the future" says the physiotherapist.
"There's a lot of focus on injury prevention now and I think we'll get a bit smarter and not go as hard in training and hopefully there will be a lot of focus on recovery in the future. The implementation of the GAA 15 warm up will hopefully reduce the number of injuries, especially hip and groin injuries which are big at the moment. If the GAA 15 warm up is implemented at a young age hopefully we'll see a decrease in injury. That's what I'd like to see."
Miriam Fitzsimons is the Gaelic Writers' Association/GAA Young Reporter of the Year and this article originally appeared in the Donegal News.