Submitted by

mcgowasg@bc.edu

on Thu, 07/03/2014 - 12:21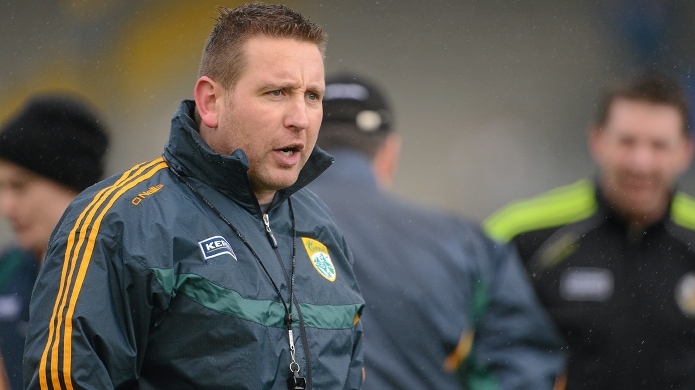 In the latest of GAA.ie's series on player welfare we talk to Kerry senior football coach and Physical Education and Sports Science expert Cian O'Neill about coaching and training methods in the modern game.
By Brian Murphy, GAA.ie
As Course Director for the BSc in Physical Education at the University of Limerick and with a hugely impressive CV, Cian O'Neill is one of the most qualified coaches operating in the GAA at the moment and is considered by many to be the pre-eminent authority on modern coaching and training methods in the country.
Forced to retire from playing a number of sports at a high level by the age of 23 due to serious knee and back injuries, O'Neill graduated with a degree in Physical Education from UL in 2000 and has since worked very successfully with a number of teams across various sports, including hurling and Gaelic football.
Originally from Newbridge in Co. Kildare, the 34-year-old is currently with the Kerry senior football team having coached the Mayo footballers during their run the All-Ireland final last year. After Mayo beat Dublin in a memorable All-Ireland semi-final, Tipperary hurler Lar Corbett tweeted: "Everywhere Cian O'Neill seems to go they become winners. Respect".
Corbett would know. O'Neill was Tipperary's fitness coach in 2010 when Tipperary ended Kilkenny's five-in-a-row ambitions, just one of the achievements that has enhanced his formidable reputation. He established his name as the coach and trainer of the Limerick footballers in 2006 before switching codes to play a crucial role as fitness coach in Tipperary's re-emergence as the main threat to Kilkenny's dominance, and ultimate defeat of the Cats in the 2010 All-Ireland hurling final, from 2008-2011.
Cian O'Neill
Coaching CV
2013: Kerry Senior Football Coach
2012: Mayo Senior Football Coach
2011: UL Huskies Fitness Coach
2008-2011: Tipperary Fitness Coach
2010: Monaleen Football Coach
2009: Newtownshandrum Coach
2006-2007: Limerick Football Coach
On the club scene, he coached Newtownshandrum to Cork and Munster hurling titles in 2009 and then helped Monaleen to a Limerick senior football championship in 2010. Throw in a spell as fitness coach for the UL Huskies basketball side that won Superleague and National Cup titles in 2011, as well as his work with Mayo last year, and Corbett's tweet looks more like a statement of fact than a nod to an old friend.
A coach will never come under the same scrutiny or megawatt glare as an inter-county manager, but in a world where teams are constantly looking to gain an 'edge', always trying to elevate the game to another level, they are an increasingly vital cog in any backroom team and often the ones designing and implementing training programmes for teams and players.
EDUCATION
O'Neill has witnessed the emergence of an 'uneducated culture' in recent years where the focus has switched from the quality of training session to an alarming obsession with hitting numbers.
"I think it comes down to having people who are qualified, knowledgable and experienced in the field of working with athletes," O'Neill says.
"Very often if you are an athlete, particularly in a county team, you will do anything to stay on that team, to be in the 26 or to push for the 15 on match day.
"More often that not, if you are being told to do something you will do it and in many cases you won't question it. I feel the most irresponsible people are the ones who don't want to be questioned, who want to be dictatorial. Very often they are the same people who aren't qualified and who aren't educated in the field in the first place.
"They are guiding others without any of the other scientific underpinnings or even an educational background in the field. Very often the cliché is, 'Oh, but he's very experienced'. You can be very experienced with bad experience and therefore you are fostering bad, negative habits and poor practice year after year simply because someone knows your name."
Cases of inter-county teams banking huge numbers of sessions in pre-season, and in one case rumours of a team that had done more sessions than there were days in that month, have made it into the media and have helped foster that 'more is better' culture.
His job in UL means O'Neill regularly comes into contact with inter-county players from all over the country, and he too has heard the stories. His take is that developing players and achieving results is rarely about hitting numbers; instead it's about the quality of sessions, and more often than not the quality of recovery between high-intensity sessions.
"I think there has to be a sound rationale behind the frequency of sessions and the volume of work within sessions," he argues. "You could train seven days a week and people might say, 'That's crazy'. But two of those sessions might be a recovery session so they have a purpose. It might be an aqua recovery session in a pool and it might be a stretching session at home in your bedroom.
"Those two sessions are used to improve or develop an athlete for the next contact or work session. It's not about the number of sessions, it's about what happens within the session relative to how often you train."
O'Neill advocates a model of two field-based training sessions, a match-based weekend session, two gym sessions and two recovery sessions a week. Anything more than that and an athlete is being overloaded and is in danger of overtraining.
"I do know of counties who are doing four group sessions a week and three gym sessions and that to me is frightening. Unless you are doing two sessions a day you are training every single day at a specific site at a specific time – there is no room for manouevre in such a set-up. There is nothing necessarily wrong with seven sessions a week, but they should not all be high intensity gym and field-based sessions. 
"For me, an amateur athlete who has work, a family and a social life needs recovery days in there where they do nothing except relax and maybe do a recovery session in their own house. They have to get time to spend with loved ones and friends. I would be concerned with anyone who has more than five days a week of focused, high intensity or contact sessions."
DURATION
Where say, a runner might slip on a pair of trainers, go out the front door and be back home having completed a session in an hour, an inter-county player working or studying outside their home county can be required to travel long distances to group training sessions. 'Duration' is a crucial variable that is often overlooked in the equation in determining what can be asked of an amateur athlete.
It's an issue he faced with the Mayo footballers last year. Mayo had a large group of players based in Dublin and the team management organised a bus for them to travel down to training together at appropriate stages of the season. It allowed the players to relax on the way to training and to recover properly on the way home instead of being cramped in cars for the considerable journey across the country.
"Those players, so they could recover, put their legs up and read the paper. That took some stress off them but those sessions were only pre-match. If we had seven league matches they might come down on some of those Tuesdays.
"It was just one day, we would never do it twice. In between matches we would never ask them to come down because they would have their own programme in Dublin and they would work on them.
"It's not the Tuesday (group session) that catches players, and this is what people don't understand, it's the Wednesday. They are only getting home at 12.30 or 1am and those guys have to be up again for work or college the next day at 7.30am. It's a huge challenge."
During his time with the Limerick footballers in 2006 and 2007, O'Neill witnessed the enormous mental strain placed on one of his players trying to get that balance right. Stephen Lucey, a dual player, was studying to become a doctor in UCD while trying to juggle life as an in-demand inter-county player on two fronts at the same time.
"I remember Stephen telling me what his week would be like when he was in UCD. He was a medical student and he had a lot of work on at the time. He didn't mind training or playing matches – in fact that's what he loved – the real stress was before training, after training and getting up in the morning and trying to fit every other aspect of his life in. There are many players like that."
OVERTRAINING
Overtraining is a term many people will be familiar with and others have experience of, but few really understand. On the surface, it seems intuitive – an athlete overtrains and his or her body cannot cope with the strain. However, with elite athletes it's frequently more complicated.
"Very few people understand that when scientifically we talk about overtraining there's very rarely any physical levels of overtraining or overexertion. It's actually the mental aspect and what we call the 'freshness' aspect, where your mindset is at that given time.
"That's the real core aspect of overtraining, the mental manifestations of all that stress in many cases, not the physical. Ultimately, these guys are so conditioned and fit that if they wanted they could train twice a day several days a week in a balanced programme. The issue here was that they were training every single day. But where's the down time? Where's the time out there?"
O'Neill speaks with conviction on the issue of player welfare. His own experiences as a talented young athlete in several sports have informed his philosophy.
Growing up in Newbridge, he played Gaelic football for Moorefield and Kildare underage teams, soccer with Newbridge Town and numerous representative sides and basketball to a very high level with Patrician College. Ultimately, his body couldn't cope with the stress and he had surgery on his knee three times before he was 17 years of age.
"When I look back on it now, it is what led to a lot of overuse injuries when I was younger. I had three surgeries on my knee before I was 17. I was probably playing in 11 or 12 teams between soccer, Gaelic football and basketball," he says.
"It was totally unsustainable to keep on doing what I was doing. In many ways it probably led to joint issues as I got older. I don't think you will find that as much any more with the way society is, but if someone tried to tell me back then to give up one of those things it wouldn't have happened because when you are young you want to be doing everything all the time."
O'Neill's path to where he is today as coach to the Kerry senior football team hasn't happened by chance. He understands the need to challenge players who are immersed in the deep end of one elite sport.
By 9.30am last Tuesday morning, he had already sent a PDF document to the Kerry management team outlining that evening's session. In the document, the timing of each part of the session is outlined and the content (warm-up, conditioning, tackling, full-pitch game and warm-down) is detailed along with extensive notes. The plan is available to the players before training so they know exactly what's in store every evening.
O'Neill encourages feedback on previous sessions, and on what he has planned for the night ahead. It's as much to stimulate the players' minds as their bodies, a trick he has learned from experience and one designed to keep the 'freshness' in every session.
"To me that fosters discussion between players and management. That's a really positive thing that's working in Kerry. It explains the rationale and what they will be working on within that.
"We never teach skills in isolation. Whenever we are working on kick passing one thing you will never see is one Kerry player standing kicking the ball to another and him kicking it back. Realistically, in a game you have to add in speed, pressure all that kind of thing.
"We do everything through games and the players love that because they know they are moving and they know it's relevant. A big question players will ask is, 'How is this relevant to what I do in my game?'. For them, that makes it very fresh."
STRENGTH AND CONDITIONING
O'Neill has also implemented a strength and conditioning programme in Kerry which recommends two gym sessions a week when appropriate, although he stresses that it's not a 'dictat' and players are allowed to pull back and take a night off if that's what they feel will benefit them. In some cases, players are lifting weights regularly for the first time in their careers.
'The gym' - or more accurately strength and conditioning work - has become a convenient hobbyhorse for those who perceive that there has been an erosion of the traditional skills of Gaelic football. In a county like Kerry, where their footballing tradition is guarded more preciously than most, it's easy to imagine opposition to the new approach.
"Ironically, it was the opposite," he says. "The lads took to it immediately. I'm not saying they find it easy, don't get me wrong, but it comes back to the key points that they understood what they were doing and why they were doing it, and they were seeing the gains from what they were doing.
"The most important thing is that they could transfer the things they were doing into their performance. They could feel stronger in the tackle, they could jump higher going for a ball, they could withstand collisions and contact because of what they were doing.
"My guys are not training to become power lifters and body builders. Everything they are doing is based on the joints and the core muscles that they will be using in a match. That's just one part of the programme. The same goes for all of our coaching, everything we do is geared towards how we want to perform in a match. If they can link those together you are in a very healthy state."
And yet the perception remains in some quarters that an overemphasis on strength and conditioning work is to blame for the way the game has developed in recent years.
"You should never fear strength and certainly not power because if you want to get faster you have to get stronger," is O'Neill's clinical counter-argument. "You need to increase force and force comes from muscle output.
"For me, there is not enough emphasis placed on football training. Don't blame the strength and conditioning stuff because if that is happening then at least they are getting some of their programme right.
"I think they are not getting the most glaringly obvious part of their development right, which is technical and tactical development. I don't think it's one at the expense of the other. I don't think you will ever see a system that says, 'We won't do a field session tonight, we will go to the gym'. The gym sessions are always there, they just aren't getting the field sessions right.
"In many cases if coaches feel they aren't good enough to coach players to a certain level from a technical and tactical perspective they might look to make up for it by training players extra hard on the athletic side of things.
"Or if they don't have the players to beat a team one way, they might look to do it another way. To me, that's good coaching because it's not like the Premiership where there is a transfer window to buy in new players at the end of the season."
Go back to the 2010 All-Ireland hurling final between Tipperary and Kilkenny and it is hard to imagine how two teams, and especially Tipperary, could ever eclipse those levels of intensity and ferocity. In football, the all-action, hyper version of the game Donegal mastered in winning the All-Ireland title last year is often held up as the gold standard.
But what is the future of the 'modern game', and how can we possibly ask amateur players to take it to a level beyond what we are currently witnessing?
"For me, where the game is not developed in a stacked sense whereby it goes higher and higher and higher. For me, it's cyclical. The game is at a certain point now and it's always going to come back full circle again. If any teams develop one method of playing, such as Donegal, then it's up to every other team to beat them. When they beat them they will then try that method.
"Many teams are trying to mimic how Donegal play and are doing it very poorly. They can't sustain that or else they need to get very good at it. By the time they get very good at it, Donegal are going to be beaten. Where do they then go? Do they try to master something that is no longer effective because Donegal aren't winning at the moment?
"What you need to do as a coach or a manager is to see what's working within an opposition's system, where the weak areas are, how can we exploit them without sacrificing the way we play our own game.
"That to me is the biggest coaching error that teams are making at the moment – they are trying to beat other teams by counteracting them when perhaps they should just get better at playing the way they play."
Cian O'Neill was speaking in an exclusive interview with GAA.ie. GAA.ie will continue to feature interviews with a wide range of people involved in safeguarding and ensuring the welfare of GAA players over the coming weeks.