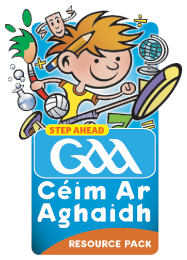 Céim ar Aghaidh/Step Ahead Resource
Céim ar Aghaidh/Step Ahead is a GAA Games Development initiative to supply teachers and pupils with educational resources based on the theme of Gaelic Games. The programme includes a range of resources used to support teaching in a variety of subject areas.
These can be adapted to suit children of varying abilities through differentiated tasks. In keeping with the ethos of the GAA, the material is designed to promote participation for all, both on and off the field.
Tá na leaganacha Gaeilge seo de na háiseanna a chur ar fáil anseo. 
Each subject contains Teacher Notes with references to corresponding Worksheets. RTÉ Sport and the GAA have produced specific video material to support teaching of the subjects of Gaeilge, English, SESE and SPHE. 
PE Céim ar Aghaidh Resource
The GAA's Céim ar Aghaidh Physical Education teaching resource has been developed to assist Primary School Teachers to deliver the Games Strand of the national Physical Educational Curriculum through Gaelic games activities covering Gaelic Football, Hurling/Camogie, Handball and Rounders. It is an addition to the GAA Céim ar Aghaidh/Step Ahead Resource Pack.  PE Céim ar aghaidh as gaeilge anseo.
Primary Planner
Build you own PE lesson plans using the new GAA Primary Planner, part of the GAA Activity Planner.  Click below for more details: