Submitted by

mcgowasg@bc.edu

on Thu, 07/03/2014 - 12:27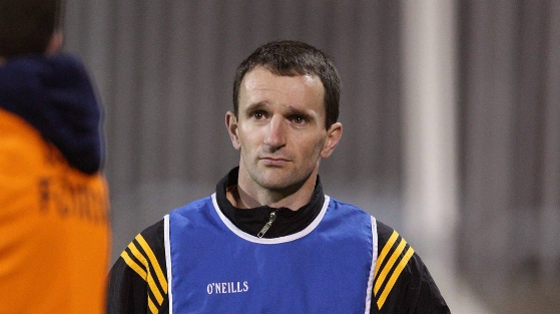 by Arthur Sullivan
In the latest of GAA.ie's series on player welfare, former Cavan footballer and renowned physiotherapist Ronan Carolan discusses his profession, how his GAA career has informed his work, and some of the issues relating to injuries in the modern game.
When it comes to the often thorny subject of injuries within the GAA, there aren't too many people as well qualified to talk about it as Ronan Carolan.
He has been there as a player. Carolan played for Cavan for 15 years between 1985 and 2000, and is one of the highest scorers of all time in the Ulster Football Championship. For much of that time, and in the years since his retirement, his work as a physiotherapist has brought him into contact with countless Gaelic footballers and hurlers from all over the country.
His practice in Virginia has been a place well known to Cavan footballers of all levels over the past two decades. His professional years have coincided with a period of dramatic increase in the level of commitment given by GAA players, and given his expertise in both the GAA and in physiotherapy, he is well placed to consider the lie of the land in 2013 in relation to the area of injuries and player welfare.
His own path into the profession of physiotherapy has its roots in his GAA career. He originally trained as a primary school teacher, studying in St. Patrick's College, Drumcondra, whilst making his reputation back home in Cavan as a young footballer of considerable promise.
In 1988, while in his second year in college, Carolan was part of the Cavan team that reached the All-Ireland U21 football final. That was a big deal. By then, it was 36 years since Cavan had won an All-Ireland at minor, U21 or senior level, and this was their first final at any of those grades since the minor final of 1959.
"Three weeks before the final, I badly damaged the lateral ligament in my right ankle in an U21 Dublin Championship game for the college," Carolan says.
"I went through the harrows of surgery and rehab, a six month rehab. I missed the All-Ireland U21 final over it (below, Ronan is pictured last on the right in the back row) and through that I befriended Ann Burton, who looked after me and a lot of footballers down this end of the county. Ann was the Meath team physio, who I have a lot of respect for and still would be quite friendly with. Ann encouraged me at that time.
"I was beginning to discover what physiotherapy was about and that I potentially would like it. So I applied to be a mature student, and applied to get into various colleges and one morning I was heading off to the school where I was teaching and I received two letters, one from Trinity and one from Jordanstown, so I had a decision to make.
"I remember I was heading across the tracks in Lansdowne Dart Station when I saw the two letters. I opened them up waiting for the Dart to go by. So I made a decision. I was working in Dublin at the time, I had my dip in teaching, so I had nothing to lose."
The Department of Education granted him study leave to pursue a course in physiotherapy at Trinity College, and he progressed from there. Aside from his busy practice in Virginia, he has worked with many club and county teams over the years, mostly in his native Cavan and with his club Cúchulainns in Mullagh. He also worked with the Irish Compromise Rules team for the 2001 series against Australia.
His work has been informed greatly by his GAA career with Cavan. The experience of dealing with that serious ankle injury at such a young age had a profound effect on him, and gave him an all too personal insight, at what was a very tender age.
"I was brought into the Mater and I was fortunate that at the time, there was a very good nurse there who noticed the severity of the problem from chatting to the doctors, and realised that a top surgeon was actually in the building at the time.
"So she got his attention as he was passing A and E and he came in and spent a few minutes with me. He was told that I was playing at inter-county level and he just commented that I wouldn't play again at inter-county level if I didn't go for surgery and that he personally would operate on me the following day if I chose.
"The decision I had to make was...at the time, I'm just coming to terms with the thought that I had sprained my ankle and still might play in three weeks' time and then he was saying, not a hope, that I literally had ruptured part of the lateral ligament. The lateral ligament being three structures and I had ruptured two of the three.
"So there was no coming back. My father was with me and he made the decision for me and that was it."
Cavan subsequently lost the final, narrowly, to Offaly, but one positive from Carolan's perspective at least was that his unfortunate experience had led him towards the career he is now in.
A couple of years on from that traumatic experience, and Carolan is a physiotherapy student, doing an exercise in class measuring calf bulk. He notices through doing the exercise that the calf bulk on his right leg is considerably reduced compared to that of his left leg. But this is no miracle of science, and a revelation dawns on him.
"At the time just before I damaged my ankle, I was 20 years of age, was playing midfield for Cavan and I had noticed that I was kind of competitive," he explains.
"I was playing against the likes of Anthony Tohill and Brian McGilligan and I was competitive in the air. After the injury, I had noticed that I was struggling. I was struggling in the air from when before I was flying. It only dawned on me a number of years later when I was doing that exercise in my physiotherapy degree, that I had actually lost, through the surgery at the time, a number of degrees in the movement in my ankle.
"Through that, my calf bulk had decreased because of the restriction in my movement. And calf bulk is one of the main assistors in compelling you upwards."
Although as he explains, such a scenario is unlikely to occur today as a result of advancements in surgery, it's one of many telling insights Carolan provides into the complexity of injury and the body, and how, in literal terms, the residue of an injury can live on for years after it has long since 'healed'.
Exploring the link between different types of injuries and their relation to specific aspects of the sport itself is a science in itself. How certain athletic behaviour results in injury or not is central to what Ronan Carolan does on a daily basis.
The phrase 'the modern game' has come to mean more than just the literal state of the game as it is at the present time. It is a somewhat loaded term, and within its meaning, there is the understanding that it refers to a hyper version of GAA, an all-action, full-blooded athletic pursuit where the participants push themselves to their physical and mental limits on a regular basis.
Within that 'modern game', injuries have come to play an increasingly significant and costly role. "The by-product of top level sport," Carolan agrees. Two of the most feared, and most regularly occuring injuries at the present time, are to the hip and to the cruciate knee ligaments.
"If you go back 10 years, what is the hip now used to be the groin. I would suggest that many of the chronic groin problems that occurred or that were diagnosed 10 or 15 years ago, were potentially hip problems," he says.
"There will be a medical argument over the next five or 10 years whether all the surgeries that are going on nowadays are actually necessary. Because when you operate on a hip, to a degree you're exposing the joint to an extra amount of trauma by just going through the process of surgery.
"The modern game is a fast, multi-directional game where there's a lot of twisting and turning. You notice the modern coaching methods are all these small-sided intense games. At first hand here in Cavan, we are very fortunate with the top quality coaches we have, particularly at county level and underage level.
"Watching it for the last few years, it's fantastic stuff on the footballing side, but you're not too sure how beneficial it is from the long-term health of, in some cases, the immature hip, the immature muscular skeletal structure of a lot of these younger players.
"It goes towards the exposure of a lot of these young talented footballers and athletes who play multiple sports, from 15-21. I'd be really concerned about how those players will be in their late 20s and so on. And maybe that's what we're seeing now with all these hip injuries, the evidence of 10 years ago.
"Once you have hip surgery, it's similar to a cruciate. You do have a damaged joint. What people forget is once you've exposed it to surgery like that, you have a damaged product. You're leaning towards the arthritic situation in later life and that would be a deep concern with regards to the hip."
The certainty with which Carolan speaks of how such problems will affect players in later life is striking. "They will be paying the price. It's not could be, they will be paying the price," he says.
The dreaded cruciate knee ligament injury is another one that is regularly associated with the 'modern game'. There has been a very large number of Gaelic footballers and hurlers who have been affected by the injury in recent years, and Carolan explains why it is such a serious problem - these structures in the knee that are one of the body's main pressure points in terms of balancing an athlete's ability to move well whilst taking so much strain.
"It's the end of your season. You have two cruciates in your knee, the anterior and posterior cruciate. The anterior stops the lower part of your leg going forward. It is probably one of the prime stabilisers in the knee and there would be other structures that would assist with that.
"You'll often find when someone is changing direction, decelerating, landing, twisting, that you can put too much stress on the cruciate and hence a very important stay within your knee to a degree, ruptures, breaks, and will sever."
However, Carolan talks enthusiastically about the work being done in the area of prevention - work focusing as much on trying to prevent injuries such as hip or cruciate knee ligament injuries, as trying to treat them.
"Many of the lads up north are assisting greatly in trying to roll out a preventative lower limb programme, you could class it as a warm-up, but it's more what we call training your body to behave in a particular way. Neuromuscular training is what it's really called," he explains.
"John Murphy, who was formerly on the Medical, Scientific and Welfare Committee in Croke Park and Catherine Blake from UCD, with the assistance of the GAA, are rolling out an educational lower limb warm-up that coaches will hopefully implement from 14 years up and senior level and hopefully it will go some way in particular to reducing cruciate injuries but generally lower limb injuries.
"It's a small part of a bigger picture. An extra cog in the wheel towards trying to reduce the injuries."
There is also considerable work being done in relation to the prevention of cruciate knee ligament injuries. At a conference in Croke Park in November 2011, Carolan was impressed by the renowned Dr. Per Renstrom, and by his approach in the area of prevention.
Focusing on things like footwear and the type of surface played on can all help in the prevention of cruciate injuries, but as Carolan emphasises, the key is the "conditioning of the athlete, the simple core stability side of things."
"If there's a prime message that would be coming out from research and what the GAA are trying to get across to coaches...it's the landing technique.
"Practicing the landing technique, as in how the knee is controlled over the foot as you land, from a catch or a turn. Obviously it's not that simple, but if you can follow the programme that's being rolled out at the moment, it will train your players, young and old, towards landing that little bit better and having that little bit more control if they follow the guidelines that are provided. Core stability being the key but if you practise anything perfectly, you're more likely then, under pressure, to perform that skill better."
Away from all these biomechanics of injuries, there's the psychological side as well. Carolan speaks of both the joys of seeing players he has treated recover from injuries and perform on the field again, and the frustration of seeing players continue to struggle with the problems that have afflicted them in the past.
He remembers well from his own playing career the fears that his ankle injury would reoccur, and the advice of his mentor Ann Burton that someday he would be on the field, and would mistakenly think that his ankle was gone again. That very thing happened Carolan in a National League game against Mayo, and as she had advised him, he didn't panic and within 30 seconds he was back running around again.
All these experiences feed into his work on a daily basis, and positive encouragement and motivation are key tenets of his.
"Try and keep them as active as possible, as quickly as possible, within the confines of their rehabilitation. It's extremely important because with a positive psychological output, you then have positive motivation and it's a long haul. There will be days when you just don't feel like doing it.
"There will be dips and troughs and you have to accept that. I spend my time trying to work on the positive side of things with these players and show them that you're at this now and you weren't able to do this a month ago.
"Show them what's ahead of them. You're just trying to give them little targets and focuses. It's important to give them those targets, so they have something to achieve towards. And before they know it, then they're back on the field."
Bodies never lie, so says the Ballygowan ad. Ronan Carolan's work has allowed him to become acquainted with the miracles of the human form, and his GAA career means he can fully appreciate the specific challenges and strains the sport can bring to bear on the bodies that play it.
He has seen both the injury-prone player and the supreme athlete up close and personal. He explains in detail some of the technical things that determine an athlete's capacity to withstand injury or not, and it becomes clear quite quickly that an understanding of this goes a long to way to understanding the sport itself.
"It is all to do with functional movement," he says. "Some people are disposed towards dysfunctional movement, whether that can be the manner in which you hit the ground with your foot and ankle. Fundamentally the way you're made up.
"You're talking about the whole biomechanism of how we move. Each and every one of us are different. As you push yourself, and particulary at the level we're talking about. Modern day inter-county underage players and adults are pushing themselves to extremes and if you throw in contact with that, it's a field sport.
"Certainly, there are players who are more pre-disposed to injury. To a degree it's our job through pre-season screening, to try and reduce the stresses on the body and prepare each athlete to try and reduce the potential for injury.
"It's exciting work in that you try to analyse and assess and evaluate where potentially these players have their problems before they occur, or those that come into you with a serious history of injury and see can you adapt and change and change the manner in which they approach training, change the manner in which they perform."
Of course, as well as the players who have a pre-disposition towards injury, there are those who are blessed with seemingly perfect bodies, destined to go the distance in their athletic endeavours.
"It's like seeing a well-oiled machine. You're watching a supreme athlete. Those players still have injuries and get injured, but when you watch a supreme athlete in motion, they move better so hence they are less likely to impose injury on themselves."
And yet, as Carolan explains, nothing relating to the bodies of athletes can be termed as an exact science. He remembers learning a valuable lesson in this regard at a conference a few years ago, when being shown a video of two top Olympic athletes.
"One athlete had a perfect starting gait pattern and exploded out of the blocks and for the first 10 metres had the perfect running posture. The second athlete was all over the place. His knees were basically going out wide and he looked like a giraffe getting up off the ground.
"The man showing us the video then pointed out that the perfect athlete was always injured and had a life-time of injury and was lucky to be competing at that level. Whereas the athlete that had struggled up was a top class international athlete who had not experienced a significant injury in his life.
"You always have to take that into account. The man above has put things together, and sometimes when you interfere with that, you can actually create more problems than you gain.
"That athlete was a prime example of that. That you have to be very careful when you are changing the mechanics of how people move. It's not an exact science. The kinetic chain in the manner in which we move, everything is reliant on everything else. So by changing one part of that, no matter now obvious it may seem, you have to be careful that it doesn't exact more pressure on other parts of the body and hence, breaks down."
Ronan Carolan was speaking in an exclusive interview with GAA.ie. GAA.ie will continue to feature interviews with a wide range of people involved in safeguarding and ensuring the welfare of GAA players over the coming weeks