The GAA has established a Quality Assurance Accreditation programme for performance analysts working within our games. Accreditation is based on the individual's experience, their performance analysis competence and most importantly their ability to deliver within the context of the GAA's values and ethos.
The aim of the programme is to support analysts volunteering their time across the country from club to county level.  The GAA intends to foster a philosophy of practice and shared learning within the GAA performance analyst community which aligns with the principles and underlying values of the Coach10 Model.
Rationale for Developing a Quality Assurance System
To ensure players receive high quality analysis support empowering their holistic development
To provide a quality assured register of GAA analysts to coaches and administrators
To support the development of a community of practice for GAA analysts in line with the GAA ethos
---
Framework for Quality Assurance Accreditation of GAA Analysts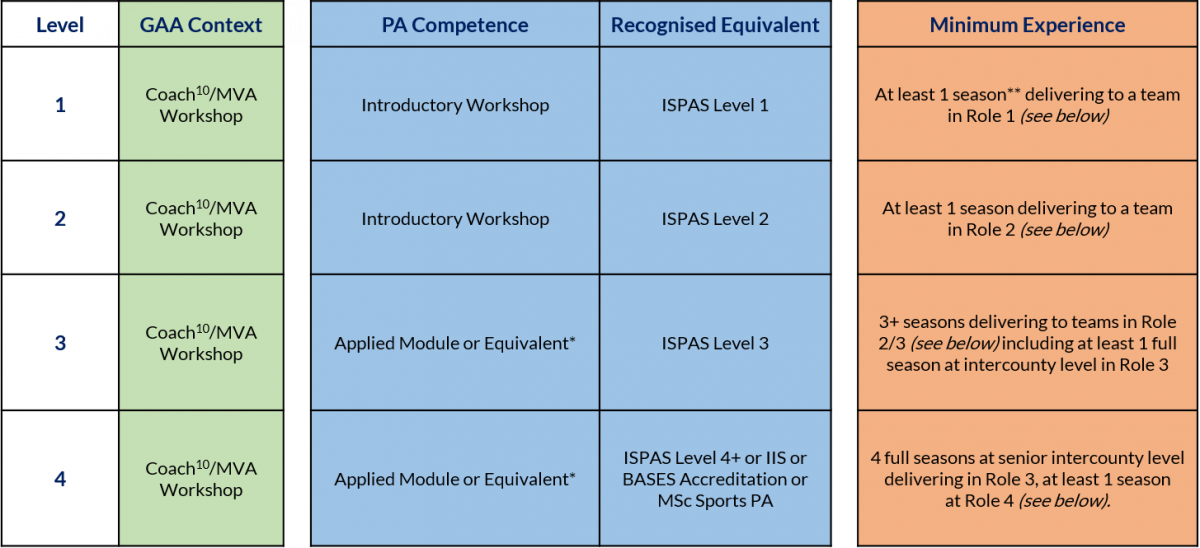 ---
The application process begins with attendance at one of the GAA Context Workshops and for 2020 these will be run on a provincial basis as previous years.  The details are outlined below:
Applicants will self-certify whether they have completed an introductory or applied module and give details of the organising body, dates etc – this will be accepted at face value (within reason) for the first phase
* An introductory module plus one additional season in role 3
Introductory Workshop = Introductory workshop in data collection techniques and reliability or evidence of training in PA
Applied Module = Module where students deliver PA support interventions (at least 2) to coach in a supported experiential learning environment.
Experience
** Full Season = Minimum 7 competitive fixtures
Exemptions may be considered where applicants feel that they meet the role 3 or 4 descriptors through a different means than the required GAA experience.
GAA experience is given priority
---
Role descriptors for the evaluation of GAA PA experience.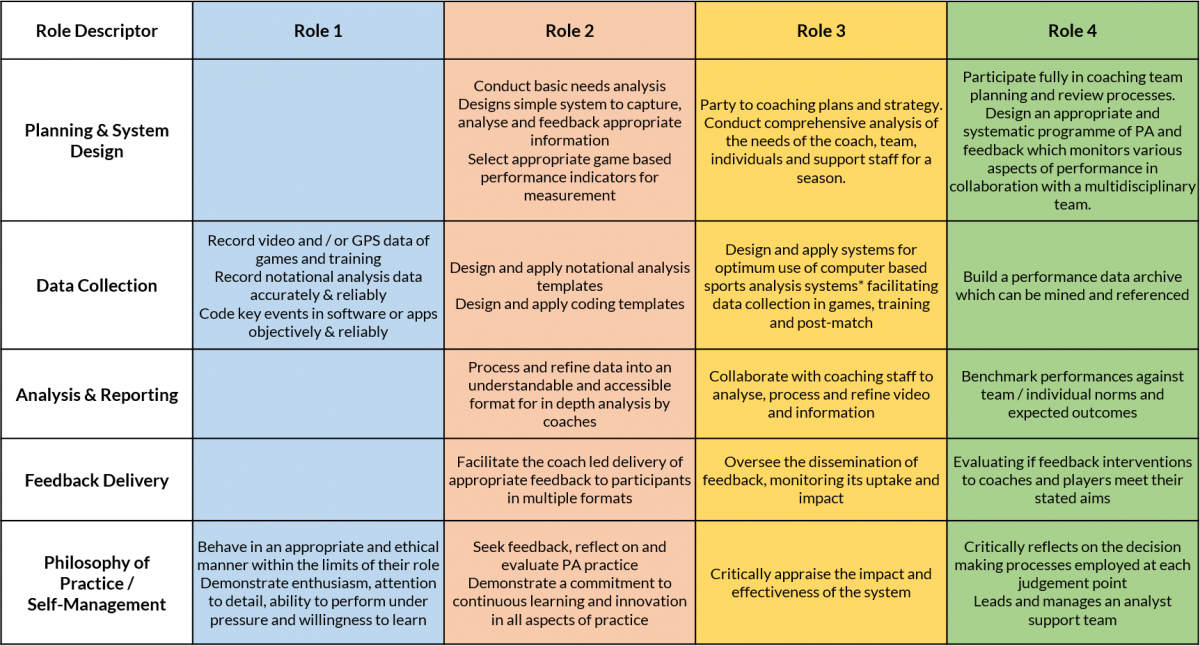 The role descriptors are accumulative. It is assumed that an analyst in Role 3 would be competent to perform the duties described in Roles 1 and 2 and so on.
---
Quality Assured GAA Performance Analysts