The fundamental aims of doping control are threefold:   
1) To uphold and preserve the ethics of sport  
2) To safeguard the physical health and mental integrity of players  
3) To ensure that all competitors have an equal chance  
The Camogie Association run Anti-Doping workshops for intercounty teams to facilitate the development and delivery of a quality education programme for all involved in intercounty Camogie. The Irish Anti-Doping Rules are available at Sport Ireland Anti-Doping.
Strict Liability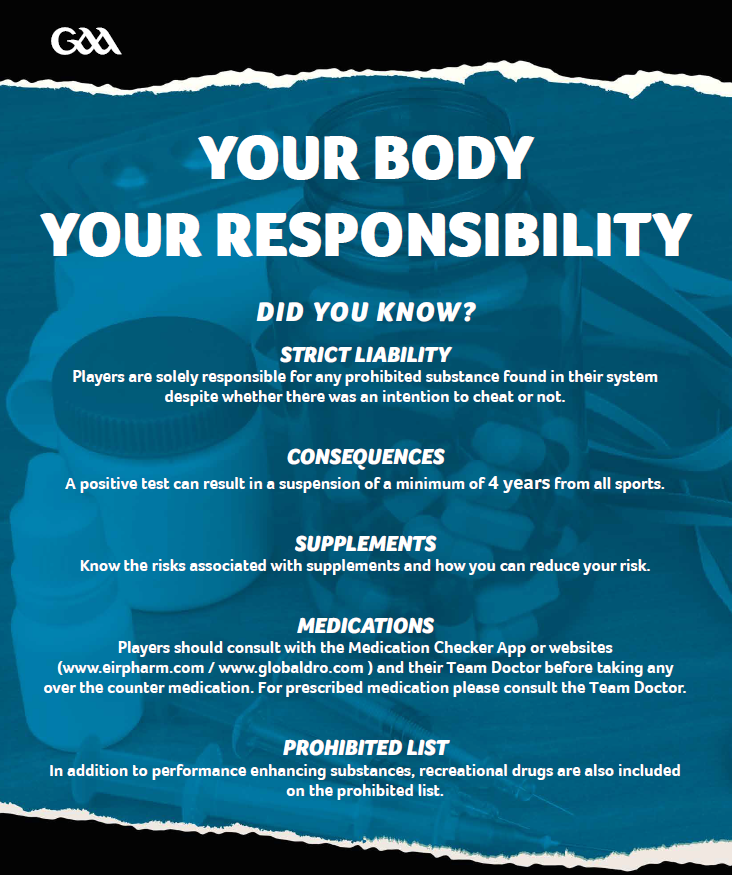 Medications
Players are responsible for checking their prescribed and over-the-counter medications to see if they are permitted for use. If a medication is not permitted, the player may need to apply for a Therapeutic Use Exemption (TUE). The website 
http://eirpharm.com/
 has a 'Drugs in Sport Database' where players can check prescribed and over-the-counter medications bought in the Republic of Ireland. Medications bought in the UK (including Northern Ireland) and USA should be checked on 
http://www.globaldro.com/Home
.
Therapeutic Use Exemptions
TUE permits an athlete to use a prohibited substance or method if the substance or method is medically required. Athletes can only get a TUE if there is no unfair advantage from taking the substance or using the method.
Criteria for determining whether a TUE is granted are defined by the World Anti-Doping Agency (WADA).
The athlete would experience a significant impairment to their health without the use of the prohibited substance or method.
The therapeutic use of the prohibited substance or prohibited method would produce no additional enhancement of performance.
There is no reasonable therapeutic alternative to the use of the otherwise prohibited substance or prohibited method
Camogie players are National Testing Pool Athletes and as such they are eligible to apply for a post-test TUE.
To download a TUE Application Form please click on the image below.