To help coaches through this difficult period, the GAA, An Cumann Camogaíochta and the LGFA have created a series of coach development sessions to take place over the coming weeks. The sessions will run every Tuesday and Thursday at 7.30pm, beginning this Thursday, March 26th.
The sessions will be along two separate formats. Every Tuesday there will be a live Questions and Answers session with a coach. Any participants in the Q and A will have an opportunity to view the coach delivering a session from the GAA Games Development Conference over the last couple of years and submit their questions via twitter for the coach to answer live.
Every Thursday there will be a live webinar presented by a coach or coach developer. The webinar will be a 30 minute presentation followed by a live Q and A with the presenter.
The first schedule of sessions is listed below: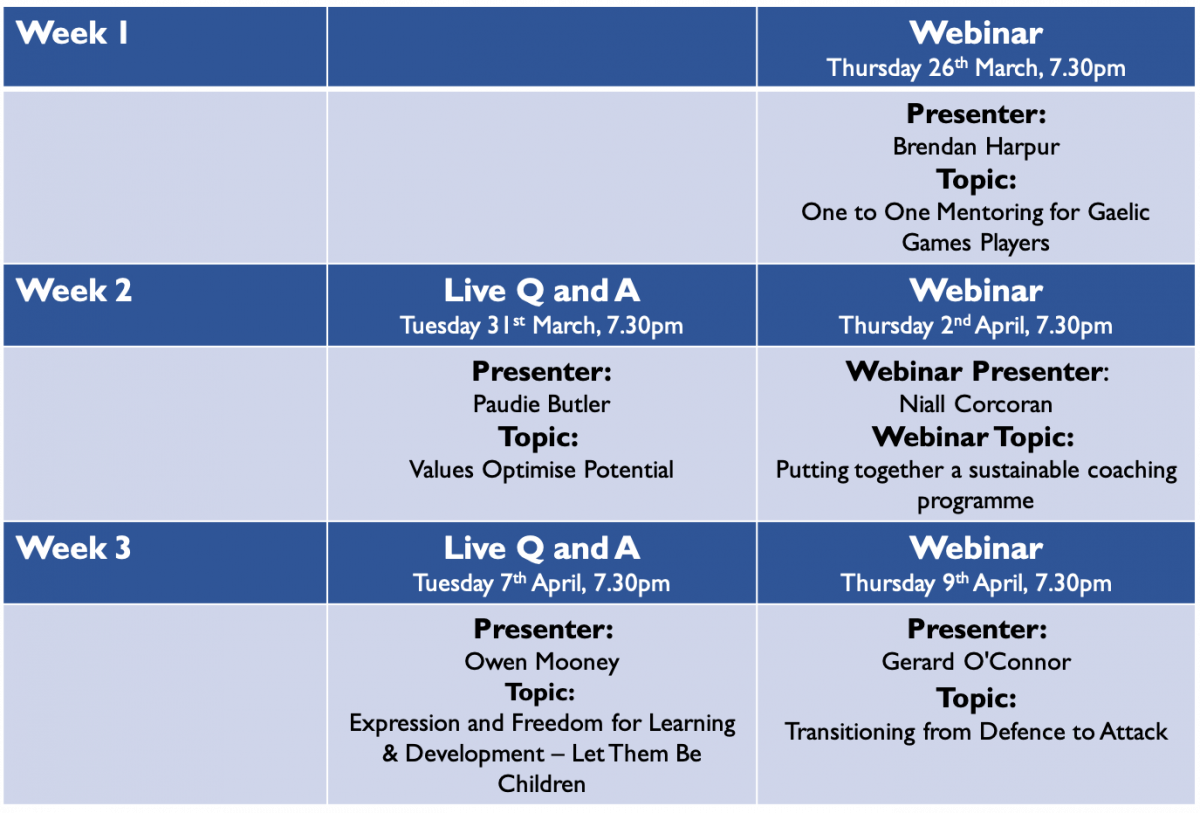 All sessions will be advertised through the GAA Learning site – learning.gaa.ie and across all of the social media channels.
We are using Microsoft Teams to host the event. You can access Teams through your web browser, or you can download the Teams application onto your device. Any participants wishing to register for the session, please complete the form below.
Upcoming Session
Q and A Session 1
Topic: Q and A Session with Paudie Butler
Paudie delivered a presentation at the 2017 GAA Games Development Conference entitled 'Values Omptimise Potential' which provided an insight into his latest thinking on coaching and being a coach. All participants are encouraged to review this presentation, and to submit their questions to Paudie using the form above. To access the presentation, visit the 2017 Games Development Conference page at https://learning.gaa.ie/conference2017
Presenter: Paudie Butler
Paudie Butler is a GAA Coach and Coach Educator who has supported the development of thousands of players and coaches over the last 30 years. A native of Tipperary, Paudie represented his club Drom Inch and Tipperary at all grades. As a coach and former local Primary School principal, Paudie has been instrumental to the current success of Drom Inch. He has also played a leading part with Tipperary teams of all age groups. As a Coach Educator, Paudie is prehaps the most recognisable Coach Educator in the GAA. He has been at the forefront of developments in the GAA formal coach education programme, having represented Munster on the national Coach Education committees. The inaugural Hurling Development Manager for the GAA, Paudie supported the development of Hurling across the Association.
Completed Sessions
Webinar 1: One to One Coaching for Gaelic Games Players
Presenter: Brendan Harpur
Click here to download the Hurling and Camogie Player Self Assessment Materials
Click here to download the Gaelic Football Position Specific Materials